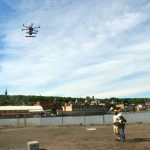 A team from the Michigan Technological University Research Institute (MTRI) in Ann Arbor, Michigan flew a drone over the Quincy Smelter in Ripley, MI to take imagery of the site with true color and infrared cameras.  The images will be used to search for old infrastructure and drainage pipes that may not be marked on a map.
This project is a partnership between the Keweenaw National Historical Park (KNHP), MTRI,  Tim Scarlett, and Don Lafreniere along with a group of local high school students.
Click here to read the complete article featured in the Daily Mining Gazette.