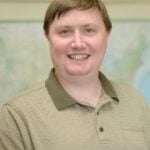 Don Lafreniere, after nomination through the Deans' Teaching Showcase, has been selected to receive the 2017 Innovative or Out of Class Teaching award from the Jackson Center for Teaching and Learning (CTL). Lafreniere was selected based on his work with forward thinking technologies and his unique approaches to active learning.
Recipients are asked to make a 30-45 minute presentation, sharing the work they are doing that has drawn this recognition. Don will be sharing his work on October 10 at 1:00. Click here to learn more.
Congratulations Don!