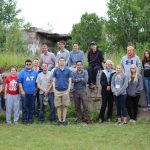 The GRACE GIS Intern Program was featured this past weekend on Copper Country Today radio show. Don Lafreniere along with two GRACE intern students discussed how local youth are using geospatial technologies to learn about what in their neighborhood impacts their health and well-being. The interns also completed a park quality mapping project for Western Upper Peninsula Planning and Development Region (WUPPDR) that is now being used for local recreational plan development. The student spend 6 weeks working with faculty, graduate, and undergraduate students in the Geospatial Research Facility.
Click here to listen to the Copper Country Today interview.
Click here to learn more about the GRACE Program.
This project is a partnership between Michigan Tech University, Eastern Michigan University, WUPPDR, and the Keweenaw National Historic Park and is funded by the National Science Foundation (NSF-ITEST).