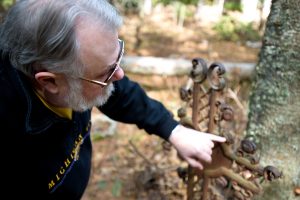 Local historian, educator and author Larry Lankton (Emeritus SS) will present the latest in the Quincy Mine Hoist Association's "History on the Hill" series at 7 p.m. Thursday (July 26) at the Quincy Mine 1894 Hoist House.
Lankton's presentation is titled, "The National Park Service Arrives on Quincy Hill, 1978." In the summer of 1978 a team from the Historic American Engineering Record (HAER), a part of the National Park Service, conducted a 10-week study of the social history of the Quincy Mining Company.
Lankton led the HAER team in 1978 and moved to the Keweenaw three years later to continue his research and write about the local copper industry. Find out more about Lankton's presentation.
History on the Hill presentations are free and open to the public.