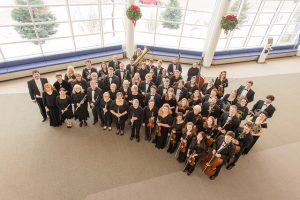 Former music directors and the current director of the Keweenaw Symphony Orchestra (KSO) will share the podium as former orchestra members return for a historic KSO Alumni Concert at 7:30 p.m. Saturday (Oct. 13) in the Rozsa Center for the Performing Arts. Past Directors Grover Wilkins III, Michael Griffith and Milton Olsson will join current director, Joel Neves.
Founded in 1970, the KSO—an ensemble comprised of Michigan Tech students, faculty, staff and community members—is the Upper Peninsula's oldest orchestra.
Most of the musicians pursue something other than music as a career, with engineers, scientists, mathematicians, educators and retirees filling the roster. Students occupy about 60 percent of the orchestra; none are music majors. The Visual and Performing Arts at Michigan Tech offers three music minors and concentrations to students. The KSO presents four to five concerts per year—including choral-orchestral, opera, ballet and pops—in the Rozsa Center.
Past KSO Music Directors:
John Clark (founder): 1970-1972
Grover Wilkins III: 1972-1976
Milton Olsson: 1976-2009
Michael Griffith: 1979-1989
Jeffrey Bell-Hanson: 1989-2002
Alton Thompson: 2003-2006
Joel Neves: 2009-current
Tickets are on sale now, $19 for adults, $6 for youth and no charge for Michigan Tech students with the Experience Tech fee. Tickets are available by phone at 7-2073, online, in person at the Central Ticketing Office in the Student Development Complex or at the Rozsa Box Office the evening of the performance. Note: the Rozsa Box Office only opens two hours prior to performances.
For more details, contact Joel Neves or call 7-2859.