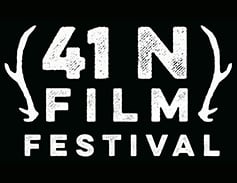 Be a part of the action and volunteer with 41 North Film Festival. This year's festival will take place Nov. 1 through 4 and we need your help to make it happen. We welcome film enthusiasts, members of the campus community and local area residents. Our volunteers help us keep 41 North free and open to the public.
The 41 North Film Festival spans four days and showcases award-winning independent films and filmmakers from around the region, country and world. Its mission is to provide Michigan Tech students and the surrounding community with an opportunity to critically engage films that are currently in distribution and under discussion, as well as the chance to interact with filmmakers, producers and other industry professionals about the art and business of cinematic storytelling.
Volunteers are needed for any and all of the four days of the festival (Thursday through Sunday). Volunteer for a few hours or volunteer for the whole festival—it's up to you. Volunteers will attend a brief training prior to the festival and are provided with a free t-shirt. All volunteers will also be invited to attend a post-festival thank you reception. We couldn't do it without you.
If you have questions about volunteering or would like to sign up, contact Volunteer Coordinator Allison Neely.