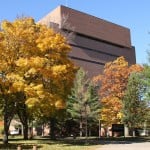 The Physical Review Letter paper underlying the perfect lens research of Durdu Guney (ECE) ranked in the top 5 percent of all articles scored by Altmetric, received "high score" compared to articles of the same age (96th percentile) and is listed as the second top trending article on Physical Review Letters in the month it's published.
The research received media coverage in R&D Magazine, Technology.Org, Nanowerk, Phys.Org, Newswise, among others and was picked up by NSF's website.
Graduate students Kunal Shah (ECE) and Conway Fellow Aishwarya Mundada (ECE) co-authored a paper with Joshua Pearce (MSE/ECE), "Performance of U.S. Hybrid Distributed Energy Systems: Solar Photovoltaic, Battery and Combined Heat and Power" published in the journal Energy Conversion and Management.
Tim Havens (ECE/CS) presented two papers at the IEEE Int. Conference on Fuzzy Systems in Istanbul, Turkey. The first paper was entitled, "Feature and Decision Level Fusion Using Multiple Kernel Learning and Fuzzy Integrals," authored by ECE PhD student Anthony Pinar and coauthored by Havens and Derek Anderson and Lequn Hu from Mississippi State University. The second paper was authored by Titilope Adeyeba (Miss. State), Anderson and Havens, entitled, "Insights and Characterization of L1-Norm Based Sparsity Learning of a Lexicographically Encoded Capacity Vector for the Choquet Integral." Havens also served as an Area Chair and Session Chair at the conference.
Several news outlets, including Chem Europe and Hackaday, have picked up a recent story about Joshua Pearce and NECi collaborating on developing an open source nitrate test kit.
The Chicago Tribune published an article from Kiplinger's Personal Finance, quoting Associate Professor Joshua Pearce (MSE/ECE) on the use of solar panels in cold northern climates.
Tech Century, a science and technology news website published by the Engineering Society of Detroit, reported on Professor Durdu Guney's (ECE) metamaterials work to create the "perfect" lens. Read the article.
Joshua Pearce (MSE/ECE) wrote "Win a Giant 3-D Printer for Making a Positive Social Impact" in ELSEVIER SciTech Connect.
Seyed Zekavat (ECE) has received $24,954 from the National Science Foundation for the project titled, Workshop on Challenges for Space Solar Power.
Graduate students Jephias Gwamuri (MSE) and Ankit Vora (ECE) co-authored a paper with Durdu Guney (ECE), Paul Bergstrom (ECE) , Anand Kulkarni (ECE) and Joshua Pearce (MSE/ECE); Limitations of Ultra-Thin Transparent Conducting Oxides for Integration into Plasmonic-Enhanced Thin Film Solar Photovoltaic Devices, in Materials for Renewable and Sustainable Energy.
Technology Century, a science and technology news website published by the Engineering Society of Detroit, reported on a visit by ESD executives to Michigan Tech and plans to establish a student chapter of the ESD at Michigan Tech.
Student Tayler Sly (Computer Engineering) shows off a circuit board and some of his co-op work at Extreme Engineering Solutions in an on-line article published by Corp Magazine. Corp also published an article on the future of the high-tech jobs market in Michigan, quoting Jim Baker, executive director of Innovation and Industry Engagement, and Steve Patchin, director of Career Services. The article also features several photos of Michigan Tech students and interns.
Joshua Pearce (MSE/ECE) was the keynote speaker for the Shared Resource Laboratories: Driving Innovation and Discovery joint Mid-Atlantic Directors and Staff of Scientific Cores (MAD SSCi) and Southeastern Association of Shared Resources (SEASR) meeting in Charlottesville at the University of Virginia. Pearce was also quoted in "5 upcoming developments in 3D printing" in the Business Reporter distributed with the Daily Telegraph (UK). Pearce and MSE PhD student Amberlee Haselhuhn coauthored "Intellectual Property as a Strategic National Industrial Weapon: the Case of 3D Printing." in the May-August issue of Engineer: the Professional Bulletin of Army Engineers. Read the article.
Joshua Pearce, (MSE/ECE) is quoted in the article "Money-Smart Reasons to Install Solar Panels at Your Home Now," on Kiplinger.com and in the August 2015 edition of Kiplinger's Personal Finance. Pearce's research on low-cost heat exchanger technology was featured in the Mumbai Mirror (daily circulation of about 700,000).