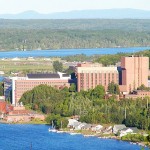 by Pavlis Honors College
The Pavlis Honors College and the Office of Innovation and Industry Engagement invites faculty, staff and students to consider participating in an Innovation Corps (I-Corps) workshop, offered through the NSF funded I-Corps Sites Program. This workshop offers a valuable opportunity to advance technology-focused business start-up ideas towards commercialization and follow up on funding through SBIR, STTR and private investment. The program is also open to community innovators.
The workshop will be conducted in August over a four-week period, starting with an in-person workshop on August 6-7 (9 a.m. to 2 p.m.), followed by two online sessions on August 13 and 20 (1 to 3 p.m.) and wrapping up with a final in-person workshop on August 27 (9 a.m. to 2 p.m.). Participants should also expect to spend five to ten hours a week outside of the workshop for customer discovery and related work. The team-based program structure is similar to the national program that NSF has developed with the help of Silicon Valley entrepreneurs for early-stage technology start-ups. This is a great opportunity for your team to determine and document the commercial potential of your technology through customer discovery using the Business Model Canvas and Lean Start-up technique.
Graduates of this I-Corps Site Program workshop will be better positioned to successfully apply to the National I-Corps program, and graduates of the national program have gone on to achieve higher rates of SBIR/STTR awards than the general population. The program is transformative based on how they approach their research, teaching and other projects they engage in.
The teaching team includes Jim Baker, John Diebel and Mary Raber, all of whom have been involved as leaders of technology startups, have participated in the NSF I-Corps training as mentors and who have been trained in the Lean Start-up methodology. There will also be a team of mentors experienced in the start-up process who will be available to help navigate the customer discovery process.
There is no cost to participate in the workshop, and an opportunity for funding of up to $1500 for continued customer discovery and prototyping will be available to teams that successfully complete the workshop.
Interested persons should contact Raber, mraber@mtu.edu or Baker, jrbaker@mtu.edu with questions about the logistics and content of the program. To register for the workshop, send an email to mraber@mtu.edu with the following information:
Team member names, email addresses and affiliation (Michigan Tech student, faculty, staff or community member)
A brief description of your idea/technology including information on the problem/need that your technology helps to solve, the technical/commercial status of the technology and the target customer.