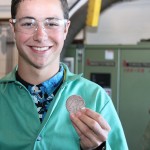 Several Summer Youth engineering programs are held at Michigan Tech Engineering Dpartments. The Engineering Scholars Program (ESP) and Women in Engineering (WIE) are weeklong competitive scholarship programs to introduce engineering careers in areas like mechanical, computer, environmental, electrical, chemical, biomedical, civil, geological, and materials.
Some of the activities may include:
• Explore engineering by constructing a building strong enough to withstand an earthquake, create an artificial intelligence army, and much more.
• Get inside info from role models working in engineering fields.
• Work in teams to tackle awesome group projects.
• Learn about the college application process and tips for succeeding in university engineering programs.
• Experience college life-stay in a residence hall, explore campus, and meet others with similar interests.
• Enjoy team competitions, a variety show, and tons of outdoor activities in Michigan's beautiful Keweenaw Peninsula.
Photo Gallery Summer Youth Program in Engineering: Women in Engineering and Engineering Scholars Program
News article from UpperMichigan Source WLUC TV6High School students learn about engineering at Michigan Tech
Michigan Tech's National Summer Transportation Institute (NSTI) is a two-week residential program that allows you to explore today's transportation industry. Find out more these and other programs:

Engineering Scholars Program
• Women in Engineering
• National Summer Transportation Institute
• Rail and Intermodal Transportation
• Women in Computer Science