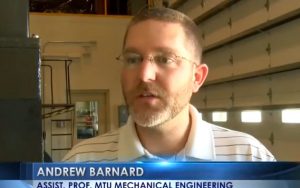 WJMN TV-UP Matters (CBS) and WLUC TV6 (NBC) broadcast stories on Michigan Tech's Great Lakes research on a National Oceanic and Atmospheric Administration (NOAA) vessel.
Michigan Tech pairs with NOAA for Lake Superior research
Andrew Barnard, an Assistant Professor of Mechanical Engineering at MTU, said, "As a mechanical engineer, I'm interested in making loud things quieter and one of the things we're looking at making quieter is research vessels that specifically deal with fish or marine mammal wildlife so that they can affect the environment less when they're going to do their work."
Read more and watch the video at WJMN TV-UP Matters.

NOAA to work with MTU scientists out on Lake Superior
"Today, we're laying some hydrophones which are under water microphones under the water and we're doing some boat bypasses to baseline the sound coming from our research vessels and from the NOAA 5501," said MTU Mechanical Engineer, Dr. Andrew Barnard.
Read more and watch the video at WLUC TV6, by Aleah Hordges.