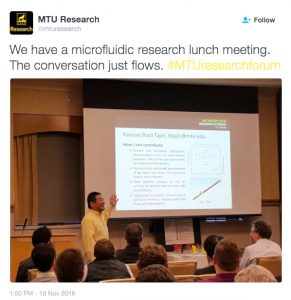 TechTalks 2016
Michigan Tech Research Forum
Faculty Research on Speed Dial
The Michigan Tech Research Forum is a new University presentation series showcasing the work of Michigan Tech faculty, postdocs, and researchers.
On Thursday, November 10, 2016, several researchers gave two minute presentations for the inaugural TechTalks session of the Michigan Tech Research Forum. Five of the 13 researchers presented work from engineering disciplines:
Andrew Barnard– Mechanical Engineering-Engineering Mechanics: "Solid State Sound—A Hot Topic"
Paul Sanders– Materials Science and Engineering: "Rapid Metal Design"
Kazuya Tajiri– Mechanical Engineering-Engineering Mechanics: "Two-Phase Transport in Proton Exchange Membrane Fuel Cells"
Hector Moncada-Hernandez- Biomedical Engineering: "Point-of-Care Microfluidic Device for Blood Typing"
Ye Sarah Sun– Mechanical Engineering-Engineering Mechanics: "Wearable Electronics, Human-Centered Monitoring"
Michigan Tech Research Forum events are presented by the Office of the Provost and Vice President for Academic Affairs in coordination with the Office of the Vice President of Research.
Additional TechTalks sessions are coming up in Spring 2017. Interested in nominating yourself or others? Use this online form.
Browse the Twitter conversations in "TechTalks 2016: Take One," by Allison Mills.
On Thursday, December 1, 2016, the second set of presentations included the following from engineering research faculty:
Jeff Naber
Department of Mechanical Engineering-Engineering Mechanics
APS LABS (Advanced Power Systems Research Center)
Michael Mullins
Department of Chemical Engineering
Electrospun Nanofibers as Neural Guidance Scaffolds
Feng Zhao
Department of Biomedical Engineering
Stem Cell and Tissue Engineering Research
Chad Deering
Department of Geological and Mining Engineering and Sciences
Ignimbrites to Batholiths
Darrell Robinette
Department of Mechanical Engineering-Engineering Mechanics
Gearing for Future Connectivity
Trisha Sain
Department of Mechanical Engineering-Engineering Mechanics
Mechanics of Soft Polymers