Category Archives: Alumni
---
Company will consider any BS Metl/Matl Sci candidate with experience as a quality manager in steel.
Quality Manager/ Metallurgist

 

 

 
Products:

        

Wire – principally galvanized and strand
Reports to:

     

Director of Operations
Essential Duties and Responsibilities – To perform this job successfully, an individual must be able to perform each essential duty in a satisfactory manner.

 

The requirements listed below are representative of the knowledge, skill, and ability required.

 

Reasonable accommodations may be made to enable individuals with disabilities to perform the essential functions.

 

  
Conduct microscopic and spectroscopic studies of metals and alloys to determine their physical characteristics such as crystal structures, dispersion of alloy particles through basic metal, presence of impurities, fractures and other defects in metal samples.
Review reports on tests of alloys in tension or fatigue devices to study physical characteristics for manufacturing purposes or determine compliance with manufacturing specifications and standards.
Provide required characteristics and testing requirements for all incoming rods
Collect and review data on conformance of rod materials to established standards
Initiate claims/complaints concerning defective or substandard rod and provide data to substantiate those actions.

 
Determine appropriate processing routes for rejects or returned materials and assure that the correct dispositions are being carried out.
Provide basic metallurgical service for process control and product analysis.

 

 
Review process history for trends; assess processes for their relevance and assess adequacy of equipment
Identify and implement strategies to reduce scrap
Provide technical support to production, quality and sales
Lead continuous improvement activities
Review rod certifications to ensure compliance
Assist in maintaining ISO 9001 certification
To perform this job successfully, an individual will demonstrate the following competencies:
Communicate effectively using verbal and written communication skills.
Leadership skills to effectively supervise direct reports.
Has the ability to solve problems using analytical tools and skills.
Must have an excellent attendance record
Must be comfortable working with tight deadlines.
Must be able to work overtime when needed.
Is a self-directed individual who can prioritize tasks.
Is willing to learn other functions to support the mission of the organization.
Maintain confidential information.
Bachelor's degree in metallurgy, materials science or related field is required.

  
Experience in wire galvanizing and stranding is preferred.
Knowledge and experience in Six Sigma, Lean Manufacturing, Total Quality Management systems, Kaizen, DOE, FMEA and other best practice protocols is preferred
Superior organizational, analytical, problem solving, multi-tasking, written and verbal communication skills.
Strong computer skills in Microsoft Excel, Word, PowerPoint, Access, and Project software
The physical demands described here are representative of those required to successfully perform the essential functions of this job.

 

Reasonable accommodations may be made to enable individuals with disabilities to perform the essential functions.
The employee is required to use the computer extensively each day.

 
Near visual acuity is required.
---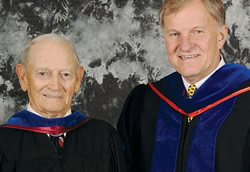 Tech's growth under Ray Smith cannot be overstated. Soon to celebrate a century, this visionary created a Husky-strong foundation that still guides us today.
Former Michigan Tech President Raymond L. Smith turns 100 years old in January. His influence reshaped the University and its direction for generations to come.
Smith became chairman of the Michigan Tech Department of Metallurgical Engineering, which quickly rose to national prominence under his leadership. After six years at Tech, he became the University's sixth president.
Read more at 2016 Michigan Tech Magazine: Issue 1, by Mark Wilcox.
---

Outstanding alumni and friends will be recognized at the Alumni Reunion Awards Dinner on August 5, 2016. Among those with degrees related to materials science and engineering or metallurgy are:
Outstanding Young Alumni Awards
Benjamin Almquist '04 Materials Science and Engineering, London, England
Presented to alumni under the age of 35 who have distinguished themselves in their careers. The award recognizes the achievement of a position or some distinction noteworthy for one so recently graduated.
Almquist examines life at nano-scale, but thinks big. Currently a Lecturer at Imperial College in London where he leads his own research team. At Michigan Tech the award-winning researcher developed and refined an admirable life philosophy: "Leave the world a better place than when you arrived and find a way to enjoy making it happen."
After earning a PhD from Standford, Almquist eventually moved on to MIT's Koch Institute for Integrative Cancer Research, Department of Chemical Engineering and Institute for Soldier Nanotechnologies where he was awarded an NIH Ruth L. Kirschstein Postdoctoral Fellowship. "My research at MIT focused on new self-assembled biomaterials for treating non-healing diabetic foot ulcers, one of the most devastating complications of diabetes that actually carry a lower 5-year survival rate than breast and prostate cancer," he explains.
Outstanding Service Award
Joshua '03 and Jana Fogarty '05 Materials Science and Engineering, Plymouth, Wisconsin
Presented to alumni and friends making significant contributions to the success of the Association and/or the University.
The Fogarty's love story is Pure Michigan Tech. They met during Resident Assistant orientation in McNair Hall. In addition to the same college major, materials science, they found common ground in their passion for the outdoors. Josh graduated in spring 2003 and proposed to Jana at the 2004 Winter Carnival All Nighter.
In Winter 2007, they decided it would be fun to gather a few Michigan Tech alumni together for broomball, a tradition that continues. By 2013 more than 100 Michigan Tech Huskies and friends were arriving from seven states to enjoy broomball, chili and each other's company.
Distinguished Alumni Award
William Bernard, Jr. '69 Metallurgical and Materials Engineering, Perrysburg, Ohio
This award recognizes alumni who have made outstanding contributions both in their careers and to Michigan Tech over a number of years.
Bernard is tenacity personified. A local boy without resources to afford schooling and living expenses elsewhere, he stayed close to home and worked nearly 40 hours a week while completing his studies. He's been with the same company for more than 40 years, ascending to sole owner and CEO of Surface Combustions, Inc in 1997.
His first job after graduation was field engineer in the Surface Combustion division of Midland and he progressed into engineering design, contract engineering, marketing, chief engineer and business unit manager roles.
When his division was threatened with closure, Bernard spearheaded a successful buyout, creating Surface Combustion, Inc. and in 1997 became the sole owner.
The 2000 Michigan Tech Academy of Material Science and Engineering Inductee and 2011 ASM International Fellow has earned numerous honors, including the 2009 Center for Heat Treating Excellence Distinguished Service Award and the 2013 ASM International Distinguished Life Membership Award.
Read more at Tech Today, by Brenda Rudiger.
---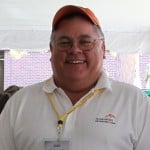 Michigan Tech hockey is pleased to announce a partnership with ArcelorMittal in the 7th Man T-shirt Project. ArcelorMittal has purchased 850 T-shirts for Michigan Tech students to wear at the home-opening series against the University of Michigan on Oct. 31 and Nov. 1.
"I would like to thank ArcelorMittal and Joe Nowosad (MSE '87) for sponsoring our 7th Man T-shirts," Tech hockey coach Mel Pearson said. "Any time you host a team like the University of Michigan, it's a big deal. It's going to be an exciting weekend of hockey here at the MacInnes Student Ice Arena, and we're happy our student section will be covered in gold."
One hundred of the ArcelorMittal 7th Man T-shirts will be handed out at a live radio remote in the Van Pelt and Opie Library on Wednesday, Oct. 29. The hockey team and coaching staff will be on campus promoting the series against Michigan.
The remaining 750 7th Man T-shirts will be handed out at the Experience Tech student entrance at the John MacInnes Student Ice Arena before Friday night's game.
"We are honored with this opportunity to be the first company to sponsor the 7th Man at Michigan Tech," Jake Haelfrisch, an engineer at ArcelorMittal said. "ArcelorMittal is very proud to work with such a great partner over the past eight years. The engineers that we've hired from Michigan Tech are at all levels of our corporation and this sponsorship is the least we could do to recognize this partnership. We hope that we see an arena filled with Husky Gold. Go Huskies."
ArcelorMittal employs more than 60 Michigan Tech graduates, and is the world's leading steel and mining company, with around 232,000 employees in more than 60 countries. They are the leader in all major global steel markets, including automotive, construction, household appliances and packaging. Underpinning all their operations is a philosophy to produce safe, sustainable steel. See the ArcelorMittal website for more information.
"It's great to see all the Michigan Tech graduates that ArcelorMittal employs," added Pearson. "They obviously see a value in our students, and we're thankful that they're now going to partner our department and team."
---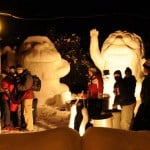 Snowiest Campus/One ID in 2007 Carny Photo
Bruce Kettunen, Metallurgy '76, commented on comparisons between Michigan Tech, Minnesota and North Dakota cold college rankings in the February 11, 2014, issue of TechAlum Newsletter.
Read more at TechAlum Newsletter, From the Email Bag.
---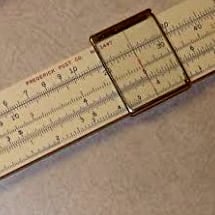 "From the Email Bag" in TechAlum Newsletter for December 17, 2013, features a lively discussion by alumni on their memories of using slide rules at Michigan Tech. Among the commenters is Bruce Kettunen, Metallurgy '76, who talks about the transition from slide rules to early calculators.
Read more at TechAlum Newsletter.
---
Graduate School Recruits in Thailand
It's become a popular and successful strategy. Graduate School staff venture to Thailand to recruit, and they get a lot of help from alumni over there.
Helping tell the Tech story were a few generations worth of alumni. Recently graduated Sanchai Kuboon '13 was there. He's a Royal Thai Scholar and materials science graduate who is now a researcher developing new biofuels.
Read more at Tech Today, by Dennis Walikainen.
---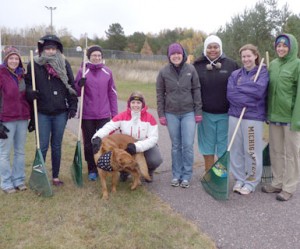 M-Making a D-Difference
It was a tradition for the DZs, according to Suki Miftah, a third-year materials science and engineering major from Baltimore.
"Last year, we raked on Agate Street, we did the Chassell cemetery and the playground at Daniell Heights the year before that," she said.
They all planned on attending the Northern hockey name that night, and some had been in Marquette the night before. "We played well," Miftah said. "It was fun."
Read more at TechAlum Newsletter, by Dennis Walikainen.
---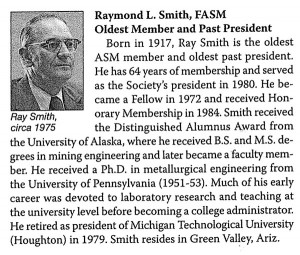 MSE alumni (and future alumni) are mentioned in this week's TechAlum Newsletter.
Students this year also had new ID cards, HuskyCards, that they were getting at the library. It was there that I ran into Violet Thole, a materials science and engineering major, and her dad, Richard '70, an ME. They were hoofing it, for the most part, because their car had broken down. She had her essential items with her, enough to move into her new home in Wads. Brother Craig was a fourth-year EE at Tech.
Steve Kampe submitted a blurb about Ray Smith in "Ray Smith Makes ASM News."
Jack Simon, '63, talks about his career as a metallurgical engineering major in "Class of '63 Member Checks In."
Read more at TechAlum Newsletter, Vol. 19, No. 26.
---