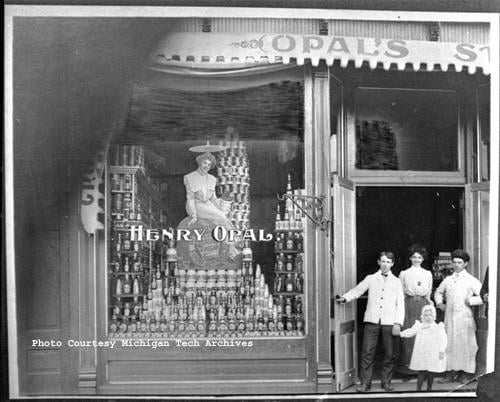 We've been working with a graduate student researcher seeking references to the Bammert Farm which was active 1880s-1920 between Phoenix and Gratiot Lake in Keweenaw County.  She is thinking that store records may indicate the Bammerts as customers — or maybe even selling farm products for sale through local stores.
We compiled the following list of some obvious collections which include records relating to stores. In some cases, these records are called "blotters" or "merchandise ledgers," but researchers should to be careful because mining companies may also use these phrases to mean other things. Not all of these relate to opeations in Keweenaw County – many are for stores in Houghton, Ontonagon and Baraga counties as well.
——————————-
"The Roy Drier Collection" (MS-020) includes two store ledgers from Keweenaw County:
Item 4065: Day book of the Foley and Smith store, Eagle, Harbor, 1886
Item 4066: Foley and Smith store ledger, Eagle Harbor, 1884-1890
The "Keweenaw Historical Society Collection" (MS-043) includes several good leads, too:
Box 32, Item 481: Houghton Ledger
Box 32, Item 482: Blotter of C. Kibbee
Oversize Box 45, Item 483: Caren and Shelden Day Book
Oversize Box 45, Item 484: Day Book  
Oversize Box 45, Item 485: Order Book 1873
Oversize Box 45, Item 486: Minnesota Mine Store Blotter
Oversize Box 45, Item 487: Merchandise Ledger
Oversize Box 46, Item 488: Day Book 1873
Oversize Box 46, Item 489: Blotter 1856
Oversize Box 46, Item 490: Blotter S. D. North 1861         
Seth North ("S.D. North") also operated a well-known store on Quincy Hill.
Some relevant records in "The Quincy Mining Company Collection" (MS-001) include:
Item 434- Quincy Store — Merchandise Ledger, May 1865 – Apr 1866
Item 435 – Quincy Store — Merchandise Ledger, May 1866 – Aug 1866
Item 436 – S. B. Harris account book with S. D. North and Son, Jul 1898 – Jan 1899
Item 437 – Quincy Store — Day Book, Nov 1864 – May 1865
Item 885- Quincy Store — Day Book, Aug 1864 – Feb 1865
Item 438 – Quincy Store — Day Book, Feb 1865 – May 1865
Item 439 – Quincy Store — Day Book, May 1865 – Aug 1865
Item 440 – Quincy Store — Day Book, Sep 1865 and Christmas 1866 & 1867
Item 441 – Quincy Store — Day Book, May 1866 – Aug 1866
Item 442 – Quincy Store — Day Book, May 1866 – Aug 1866

"The Daniel Brockway Family Collection" (Collection MS – 016) includes records from several stores operated by the Brockway family. Upon his return to the Lake Superior district in 1872, Daniel Brockway entered a mercantile business with his son, Albert.  The partnership lasted for twenty-five years, with formal dissolution and division of assets occurring on December 24, 1896 when Daniel retired to Lake Linden.  It appears that the store moved locations with some regularity; the records indicate operations at Cliff Mine (Mar.-Jul. 1872), Eagle River (Feb. 1875), Phoenix (1877-1883), and again at Clifton (1883-1895).  Entries for the year 1896 are made for Lake Linden.  The collection includes half a dozen boxes of store records:
Box 13: Records of Brockway & Perry Store, 1865-1866
Boxes 7-9, 12, 13: Records of D.D. Brockway & Son Store, 1872-1901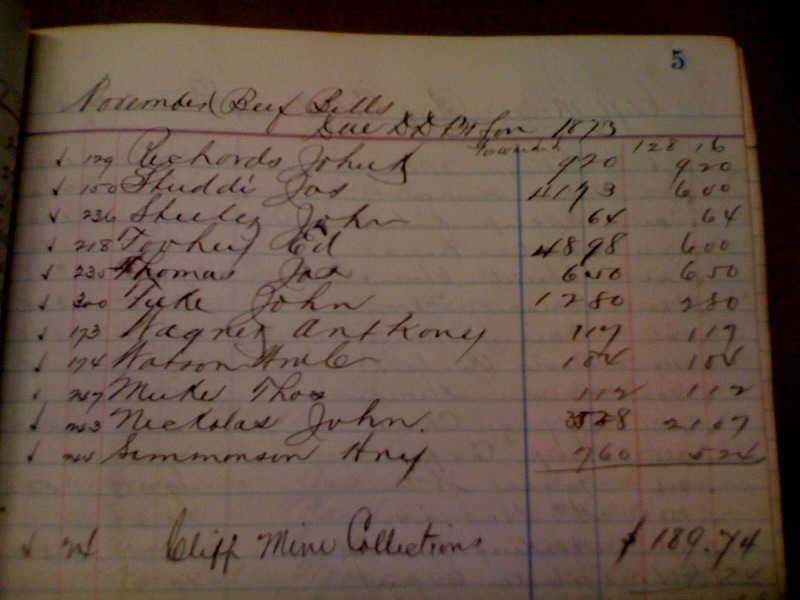 The "Perkins Burnham Collection" (Collection 01-103A) includes store information from Eagle Harbor.
A collection titled "General Store Daybooks" (Collection 236) includes photocopies of two store daybooks with various types of entries.  Donor file says one appears to be from L'Anse area, and the other is unidentified.
The Archives also holds small collections entitled "Personal Store Account Books (Collection 01-015A and Collection 98-137A) which record the purchases and monthly settlements that individual customers had stores including the Harris Seeber store in Ripley, Graham Pope's store in Houghton, and Hendrickson & Mantta Company in Hancock.  Several others stores are included in these smaller collections.
This is not intended to be a comprehesive listing of all store records at the Michigan Tech Archives, but does provide some starting points for such research. Please contact the Archives for additional assistance.
Oh, and although this isn't a great photo, we did find reference to Jonas Bammert (spelled Bommert in this document) buying a plow from the Brockway store on June 20, 1881. He paid $20.00 cash for a #20 Dodge Plow Complete, with extra "points, wings, and bolts."