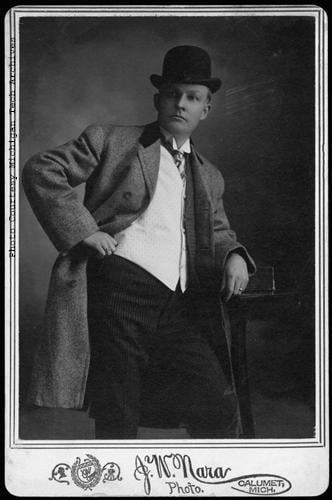 People, Place and Time: Michigan's Copper Country Through the Lens of J.W. Nara, a traveling exhibit created by the Michigan Tech Archives, is currently hosted at the Beaumier Upper Peninsula Heritage Center, located on the campus of Northern Michigan University. The exhibit explores the life and times of Calumet photographer J.W. Nara and is open to the public through May 21, 2010 during the center's regular hours.  
On Friday, April 30, the Beaumier will host a public reception and program in conjunction with the exhibit installation. Erik Nordberg, University Archivist at Michigan Technological University, will give an illustrated presentation, "Michigan¹s Copper Country Through the Lens of J.W. Nara" featuring dozens of historical photographs of the Keweenaw. The reception will begin at 2:00 p.m., with the program to start at 3:00 p.m.
John William Nara was born in Finland in 1874. He later immigrated to the United States and established a photographic studio in Calumet, Michigan, in the heart of America's most productive copper mining region. In addition to posed studio portraits, J. W. Nara's lens also captured the people, place, and time he experienced in Michigan's Keweenaw Peninsula. Copper mining and industry are an important part of the story, but Nara also captured the Keweenaw's rural landscape, including local farms, shorelines, lighthouses, and pastoral back roads.
The travelling exhibit, funded in part by descendants Robert and Ruth Nara of Bootjack Michigan, works from historical photographs held at the Michigan Tech Archives. Interpretive panels highlight the people, places, and times that J.W. Nara experienced during his lifetime and include material on urban life, farming, and the 1913 Michigan copper miners' strike. A small exhibit catalog is available at no charge and includes three Nara photograph postcards from the collection.
The J.W. Nara exhibit will remain on display at the Beaumier Heritage Center through May 21, 2010.  Future stops for the exhibit include the Houghton County Historical Society in Lake Linden and the Keweenaw County Historical Society in Eagle Harbor.  More informaton about the exhibit is available here, including details on hosting the exhibit at your location.
Update:  Here are some photographs of the exhibit installation at the Beaumier Heritage Center.