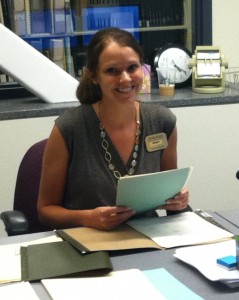 The Michigan Tech Archives is pleased to have the assistance of Megan Dirickson as a graduate student intern this summer. Megan is currently enrolled at the University of Texas at Austin, pursuing a master of science degree in information studies with a specialization in archives and preservation. During her archival coursework Megan also completed a practicum working with manuscript collections at the Texas State Archives. She is a board member of UT's student chapter of the Society of American Archivists and has previously worked as a conservation technician with Whitten & Proctor Fine Art Conservation and as a graduate intern with UT's Blanton Museum of Art.
While in Houghton, Megan will be assisting with public service in the Michigan Tech Archives reading room, particularly during the busy summer genealogical research season. She is also working to arrange and describe a recent acquisition of research and administrative files from Michigan Tech faculty members Rolf Peterson and John Vucetich relating to their ongoing Isle Royale wolf-moose predator-prey study.
A native of Texas, Megan (and her husband, Will, and dog, Faolan) have been enjoying the scenery and milder weather of Michigan's Keweenaw Peninsula.