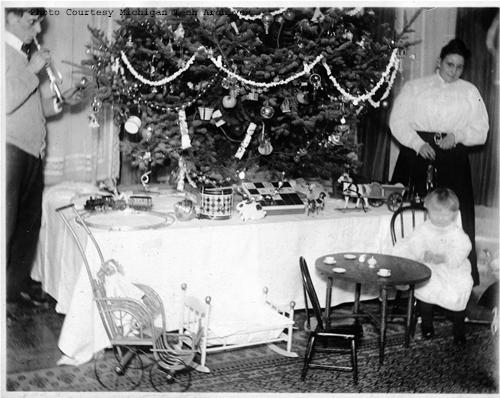 The holidays are nearly here so there is no time like the present to start preparing for the festivities! For a vintage spin on your holiday preparations, we've ventured into the stacks to find some recipes from cherished cookbooks. We hope one of these scrumptious vittles will make it onto your holiday menu. For a glimpse at other vintage recipes, stop down to the Archives and see what is cooking in the stacks. Please take note that the Michigan Tech Archives will be closed to the public from December 21-25 and December 31-January 1. We will be open, with limited service hours of 10 a.m. to 2 p.m., on December 28-30. We will resume normal business hours on Monday, January 4, 2016.
For your holiday cocktail party or open house, why not try these savory meatballs in a red wine reduction.
Hot Meatballs in Burgundy Sauce (serves 10-12)
1 pound lean ground beef                                              ¼ tsp. pepper
½ pound ground veal                                                     ¼ tsp. allspice
½ pound lean ground pork                                           ¼ cup milk
2 x 2" piece suet                                                                ¼ cup drippings
2 cups crumbled stale bread crumbs                       1 ½ tbsp. flour
2 eggs, beaten                                                                     ½ cup water
1 cup burgundy wine                                                       1 beef bouillion cube
1 medium onion, diced                                                   garlic, fresh or powdered to taste
Grind meats and suet together, running through food chopper three times. This prevents the meat balls from breaking so easily. Mix with bread, eggs, onion, garlic, seasonings, and milk. Make meat balls about ½" in diameter and brown on all sides in hot drippings. Remove from pan; blend flour, water, burgundy, and bouillion cube in pan, cook stirring constantly until thick and smooth. Return meat balls to pan; cover and simmer for 30 minutes. Transfer to chafing dish to keep warm.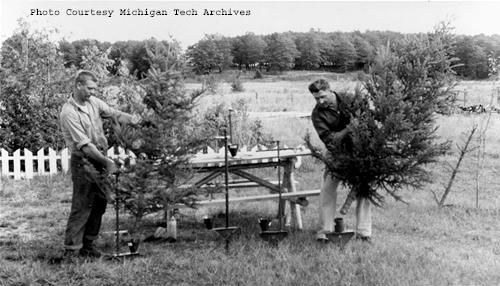 To replenish after chopping down your tree or for a little nip around a roaring fire, try this classic egg nog recipe.
Egg Nog
To make a quart take three eggs, nearly a pint of good fresh milk, sugar and spice to suit the taste. Put these in a pitcher; add hot water to make a quart; then stir or change from one vessel to another until thoroughly mixed; then add a wine glass or more of the best whiskey. Wine may be used in place of whiskey. The eggs and sugar must be thoroughly beaten before being put with the hot water. Drink hot.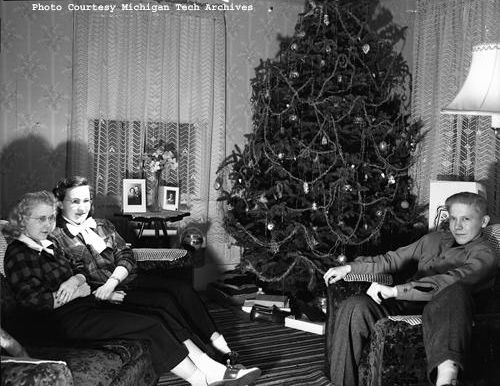 Nothing beats warm Kropsua and berries for your holiday breakfast to get you ready for an afternoon of sledding or snowshoeing.
Kropsua (Finnish Oven Pancake)
2 eggs                                                                   ½ tsp. salt
2 cups milk                                                          ¼ cup butter or oleo
1 cup flour                                                           1 tbsp. sugar (optional)
Melt butter in 8×12" pan. Set aside to cool. Mix all other ingredients in a deep bowl and beat with rotary egg beater until smooth. Last of all, add melted butter. Pour batter in same pan as butter was melted in. Bake in hot, 400 degree oven, for 1 hour. Serve hot with berries or plain.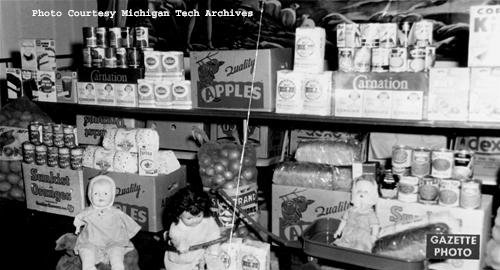 The following recipe requires some patience, so perhaps start now and it will be ready for your New Year's Eve festivities!
Fine Cucumber Pickles
Make a brine that will bear an egg, and drop in the cucumbers; cover them with grape leaves; weight them down, and let them stand ten or more days. Then take them out, drain well, and a day or two in plenty of clear water, frequently changed. Afterward, put them in a kettle with grape and cabbage leaves and a lump of alum. Cover with weak vinegar, and let them stand until they turn green. Then take out, drain, and put into stone jars. For each three gallons of pickles use one gallon of cider vinegar, and place into it one ounce each of mace and celery seed, two ounces of ginger, three ounces each of cloves and stick cinnamon, four ounces each of mustard seed (black and white mixed), choice black pepper and allspice, two tablespoons of ground mustard, a handful of chopped horseradish, two pods of red pepper, four onions, and two pounds of sugar. Boil, and pour it hot over the pickles. More sugar can be added to suit the taste. Cover the jar very closely, and expose to the sun every day during hot weather.
The recipes above were transcribed from The Blend of a Century, a cookbook compiled by the Iron County Historical and Museum Society in 1981 and Did They Really Eat That?: A 19th Century Cookbook That Acquainted Immigrants With Northwoods Pioneer Fare, a volume reprinted by Copper Sun Publications in 1992.