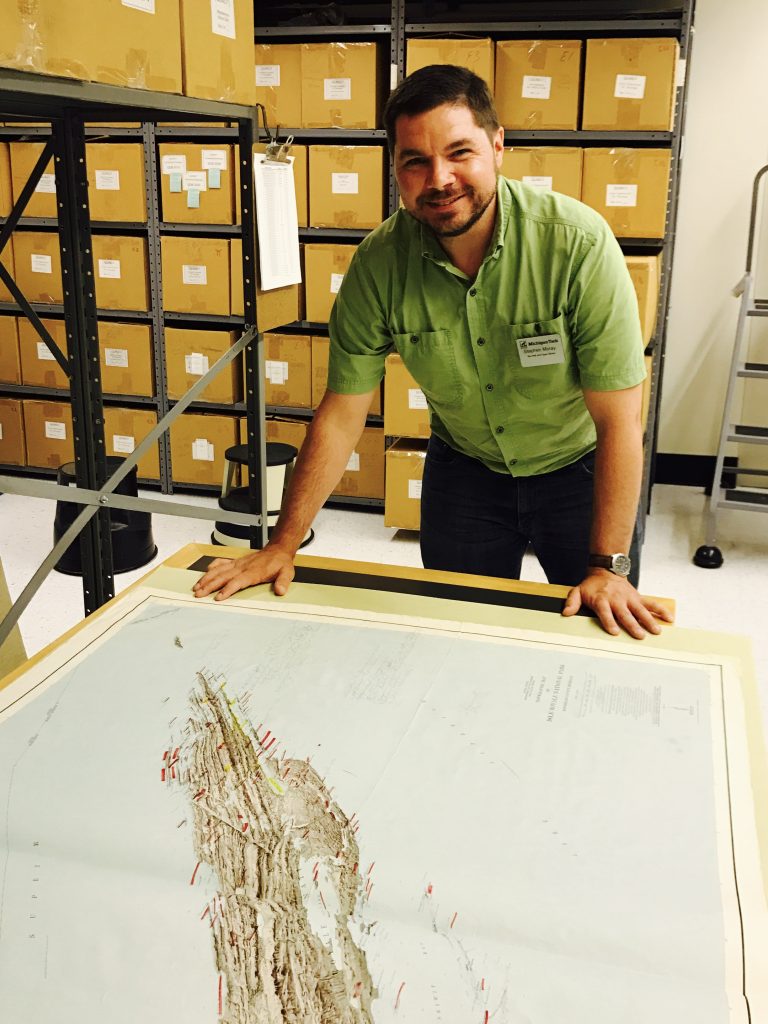 On behalf of the Michigan Technological University Archives and Copper Country Historical Collections, in partnership with the Friends of the Michigan Tech Library, we hope you will help us welcome our new archives intern for summer 2017. Steve Moray was selected as the Friends of the Michigan Tech Library Archives Intern after a competitive national call for applicants. While in Houghton, Steve will be assisting with research support services and behind-the-scenes tours in the Michigan Tech Archives, particularly during the busy summer season. He will also be responsible for arrangement and description of several small manuscript collections and assist with developing new processing workflows for our ArchivesSpace implementation. We are very excited to have him on board! Below, please take a moment to get to know Steve as he introduces himself in his own words.
---
Hello everyone! My name is Steve Moray and I am a graduate student in the University of Wisconsin-Milwaukee's coordinated MA History/MLIS degree program, concentrating in Archives. I graduated from Michigan Technological University in 2012 with bachelor's degrees in Archaeology and History. I am thrilled and honored to return to my Alma Mater for this incredible internship opportunity at the Michigan Technological University Archives and Copper Country Historical Collections. As an alumnus, I am already familiar with the archives and have used the collections in multiple classes during my time at Michigan Tech, including for a research paper on amusement parks in the Keweenaw Peninsula and for my undergraduate thesis on the history, archaeology, and GIS mapping of a historic copper mine on Isle Royale (Island Mine). In addition, my archaeology field school at Cliff Mine and History of the Copper Country classes both contributed to my in depth historical knowledge of the local area.
In 2013 I moved to Milwaukee and got a job as a field archaeologist working all over Wisconsin at a small archaeology firm. The nature of the job kept me away from home during the work week for nine months of the year. After three years, and much soul-searching, I came to the realization that my chosen profession was not fulfilling my passion. I wanted to find a way to incorporate my long time hobby, genealogy, and my love of historical research into a new, stable career that would allow me to come home every night, while also igniting that missing passion in me. I was lucky that Milwaukee had one of the best MLIS programs in the nation, and after some research, I applied for, and was accepted into, the Coordinated MA History/MLIS program.
My professional interests include collections digitization, MPLP (More Product, Less Processing), and history and genealogy reference. The final paper for my Introduction to Modern Archives Administration class at Milwaukee discussed the use of MPLP in digitization projects to balance issues of backlog, access, preservation, authenticity, and constraints of time and funding. This is a subject I am eager to explore further as I continue to develop as a professional. In my History program at UWM I have also taken Research Methods in Local History, which entailed conducting an in depth research project specifically focused on utilizing the March on Milwaukee digital collection and various physical collections of the UW-Milwaukee archives. After graduating from my master's program I would like to pursue a career as an archivist at a local or state history archival institution, or as an archivist for the National Park Service at a National Historical Park.
I am also a seasoned genealogist with 20 years of research practice and am experienced in a wide variety of records located in both physical and digital repositories. I am currently working on becoming a Certified Genealogist and I would like to use my extensive knowledge and experience not just personally, but in a professional capacity as well.
When I'm not at school or work my hobbies include photography, doing genealogy for myself and friends, exploring the outdoors (especially the waterfalls of the Keweenaw), and reading authors such as Neil Gaiman and Neal Stephenson, among many others.

I will be here until the beginning of the Fall semester, so stop in and say hi, and let me help you with your historical or genealogical research!
---
For more information on the Friends of the Michigan Tech Library Internship Program or to set up a time to say hello to our new intern, please call Lindsay Hiltunen at (906) 487-2505 or e-mail us at copper@mtu.edu. The Michigan Tech Archives can also be found on Twitter: @mtuarchives.