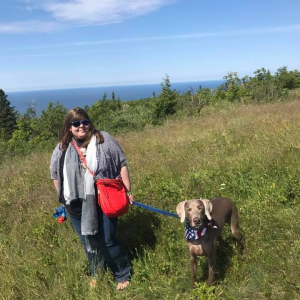 First Name: Lindsay
Title: University Archivist
Where are you from? Tamarack City, Michigan
Where did you work before coming to Michigan Tech? I started my career as a Librarian with the District of Columbia Public Library in 2007. My first job in academic libraries was as the Gifts Coordinator at George Mason University from 2010-2011. After leaving the DC metro area, I worked as a graduate specialist at the Western Illinois University Archives before coming to the Michigan Tech Archives in May 2014. I've held various archivist positions here before becoming the UA in May 2016.
What is your favorite thing about working at the Michigan Tech Archives?
My favorite thing about working here is the opportunity to meet interesting people. You never know who will walk in the door, send an e-mail, or who you will meet at a conference. My colleagues in the library are also top notch! We assist patrons from all over the world.
Working here has also allowed me to travel to participate in professional development, so I've enjoyed networking with fellow archivists and public historians all over the place. In the past year I've chaired panels and presented papers at conferences in Calumet, Traverse City, Indianapolis, Omaha, and Helsinki, Finland. I wake up happy to come to work everyday because I love the people I work with and the places I can go.
What is the most interesting thing you learned while working here?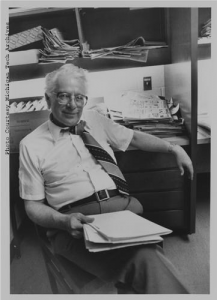 The history of my house, which was built in the late 1890s. We've learned some neat things, especially about the possible reason the house has a trap door and a secret room.
What is your favorite collection?
MS-134: Verna Grahek Mize – Save Lake Superior Campaign Collection, which was the first collection I processed here. May we always remember the First Lady of Lake Superior!
What is your favorite photograph in CCHI?
My grandpa, David T. Halkola, in his office at Michigan Tech. He was a history professor and also wrote the centennial history of the university, although I wish he would have used better citations!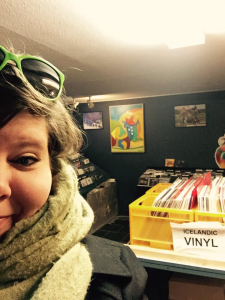 What is one interesting fact about you?
It is perhaps no surprise and not all that interesting that I am a collector! I have collections of books, Bosch breweriana (a local brewery), Thomas W. Benton, Hunter S. Thompson and Gonzo art, and vintage horror and sci-fi movie posters. However, the collection that brings me the most joy is my record collection. I lovingly maintain and build an eclectic collection of vinyl, with close to 4000 LPs and 500 45s. The bulk of my collection is punk, hardcore, classic rock, garage, surf, grunge, alternative, indie, rap and hip hop, funk, soul and old school blues. Some pop from the 1950s-today is mixed in. I also have an assortment of novelty records and soundtracks, from the (im)practical (Guy LaFleur's Instructional Hockey Disco Record) to the bizarre (It's Monster Surfing Time by the Deadly Ones).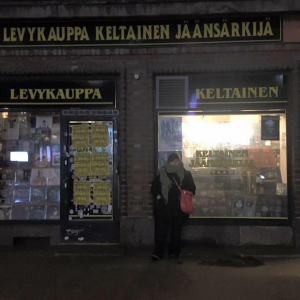 I really enjoy traveling and I try to hit up a record store in every city I visit. I've been to record stores all over to build my collection, from Santa Cruz to New York City, from Toronto, Canada, to Cleremont-Ferrand France, from Reykjavik, Iceland to Helsinki, Finland. When record hunting on a vacation, I always try to pick up a few local bands to learn about the local music scene. Pretty much the first thing I do when I get home from work everyday is spin a record.
Why are the Michigan Tech Archives important to you?
The Michigan Tech Archives are important to me because they help preserve and provide access to significant histories and memories. As a native of the local area and a Tech alum, I'm very grateful to preserve and share these amazing collections. I learn something new everyday!