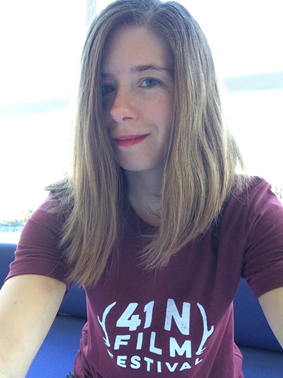 First Name: Allison
Title: Archivist
Where are you from? Born and raised in the Twin Cities (Minnesota), but have spent the majority of my adult years in Madison, Wisconsin.
Where did you work before coming to Michigan Tech? I first cut my teeth in the archives field as an intern with the U.S. Holocaust Memorial Museum and the Smithsonian National Air and Space Museum in Washington D.C. Prior to coming to the Michigan Tech Archives in July 2016, I worked as a cataloger at the Minnesota Historical Society, working primarily with audio-visual collections. I have to give credit to the Wisconsin Historical Society, University of Wisconsin-Madison Oral History Program and the Wisconsin Veterans Museum for my early career experience in archival work, providing me with the practical experience and knowledge that I'm excited to bring to Tech.
What is your favorite thing about working at the Michigan Tech Archives? My favorite thing about working at the Michigan Tech Archives is seeing our patrons leave the archive with a smile on their face. Whether it's an academic researcher who found a crucial piece of information for their research or a genealogist who was able to find a tangible connection to their ancestors, the joy on our patron's faces makes everything worthwhile.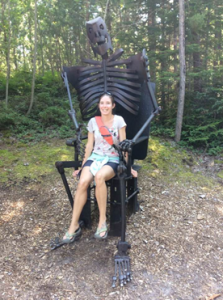 What is the most interesting thing you learned while working here? I feel that I make a new discovery every week, which is why it is hard to narrow it down. I would have to say the most interesting thing I've recently learned is that the Atlas Powder Company powerhouse whistle resides on the top of the Central Heating Plant of the Michigan Tech campus. Not only that, but the whistle has been used to mark the beginning of K-Day (Keweenaw Day) on campus. The names of several employees that were working at Atlas when the plant closed in 1960s are engraved on the whistle. What an obscure, but fascinating story, full of local and campus history!
What is your favorite collection? Picking a favorite collection among so many great ones to choose from is hard, but I would have to say the John T. Reeder Photograph Collection (MS-042). It was the first collection at the Michigan Tech Archives that I became acquainted with even before I came to work here. I think I will always have a soft spot in my heart for the beautiful photographs Reeder took of the Copper Country and its people.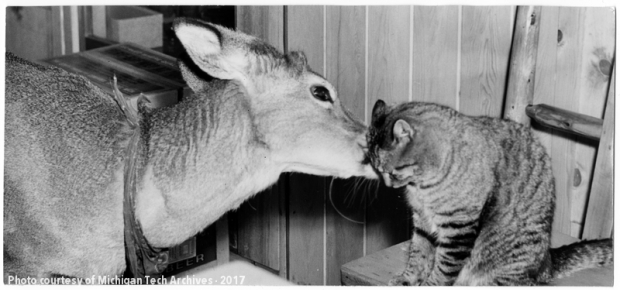 What is your favorite photograph in CCHI? So many to choose from! I'm partial to a lot of the animal photos in CCHI, particularly the 1957 photo from the Daily Mining Gazette (DMG) of "Paddy" the deer and "Pudgy" the cat nuzzling each other. Just such a sweet photo!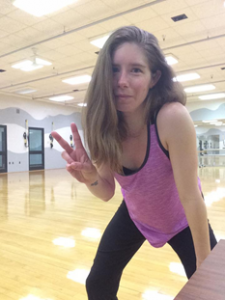 What is one interesting fact about you? One interesting fact about me is that while I'm an archivist by day, by night I'm a certified Zumba instructor for the HuskiesFit program. Come check out my class at the Student Development Complex!
Why are the Michigan Tech Archives important to you? For me, the archives represents a place where the past and present intersect. It's a place where Copper Country residents can discover their personal family stories and learn how those stories have both been shaped by and have influenced the history of the region. While my story doesn't have roots here, as a new community member it is an important place for me where I can learn about the history of the land and the community that I'm now a part of.