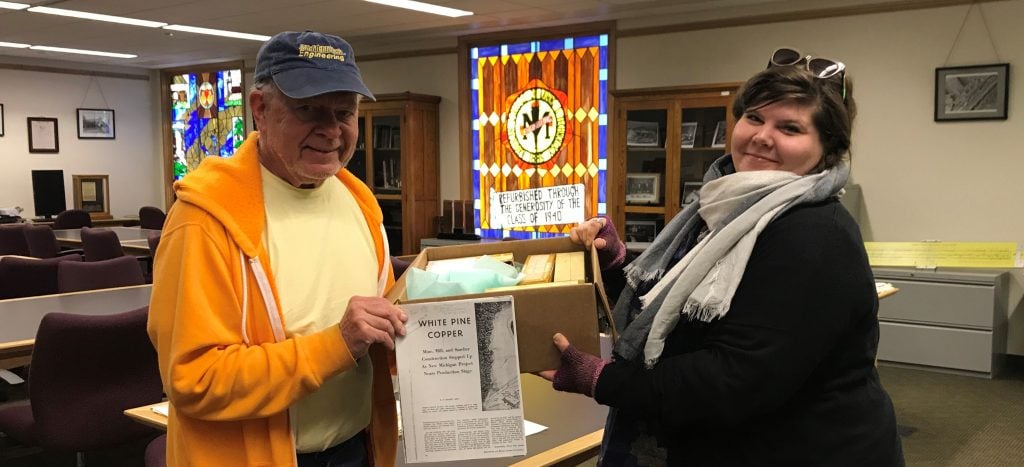 We are happy to announce a recent donation to the Michigan Tech Archives! The new acquisition consists of slides related to the history of the White Pine Copper Company. The materials were delivered to the archives by Roger Hewlett on behalf of George Haynes. The slides originally belonged to the late J. Roland Ackroyd, a former Secretary and Director of the Copper Range Consolidated, the Copper Range Railroad, and the White Pine Copper Company. The slides will be inventoried this summer and available for researchers this fall. Subjects represented include above and below ground images of industrial activities at White Pine. The slides are believed to be Copper Range's official corporate collection of photos on the building of the White Pine Mine and surrounding area.
Roland Ackroyd (1912-1979) was born in Needham, Massachusetts and was the son of James A. (1872-1957) and Emily P. Ackroyd. He was educated in Needham schools and went on to graduate with an accounting degree from Northeastern University and Bentley University School in 1936. His professional career began at the Copper Range Company in 1933 on a temporary basis as a bookkeeper. During this first appointment his father was the secretary of the company. Over the years, Ackroyd would go on to hold many prominent positions in several firms with business related to White Pine, including the Copper Range Consolidated, the subsidiary railroad, and the White Pine Copper Company.
Positions held included:
Copper Range Consolidated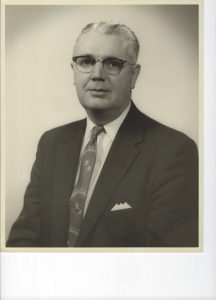 1944-46        Asst. Secretary
1947-62        Secretary
1962-70        Secretary/Treasurer
1968-70        Director
Copper Range Railroad
1954-62        Secretary
1962-71        Secretary/Treasurer
White Pine Copper Co.
1950-51        Director
1950-62        Secretary
1962-70        Secretary/Treasurer
Ackroyd lived in Needham and Stamford, Connecticut throughout his career and summered at Ocean Point, Maine. He retired in 1970. After retirement, he and his wife Natalie moved permanently to Ocean Point. Ackroyd was a key adviser in the development of the White Pine Mine and the local community. He was known to visit the area regularly throughout his career. Beyond his professional commitments, Ackroyd was also very active in his community. He was very dedicated to community service, serving with the Needham Board of Selectmen, Masons, Boy Scouts, Lions Club, Power Squadrons, the Boothbay Conservation Commission and various regional clubs in Maine.
The Michigan Tech Archives is very pleased to receive this important donation. We look forward to sharing the history of White Pine for generations to come! For more information about this collection, please contact university archivist, Lindsay Hiltunen, at (906) 487-2505 or e-mail copper@mtu.edu.