Our Flashback Friday this week commemorates Armistice Day in the Copper Country.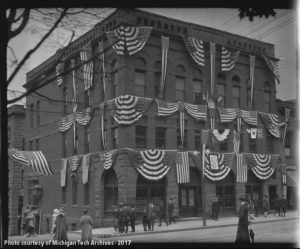 At the eleventh hour of the eleventh day of the eleventh month of 1918, peace finally came to the Western Front, ending four long years of warfare and bloodshed.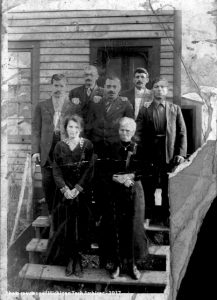 While the guns fell silent across Europe, in every corner of the United States the sounds of cheers, bells, and whistles replaced the angry sounds of war. The news of the signing of the armistice was met with a similar reaction in the Copper Country. The Calumet News held the distinction of being the first publication in the region to break the news with a special edition "issued at the very moment firing ceased." The news of the armistice arrived via a telephone wire from Chicago at 2:00 a.m. and The Calumet News had an early extra "on the streets in Calumet, Portage Lake, Torch Lake and other towns at 7 o'clock."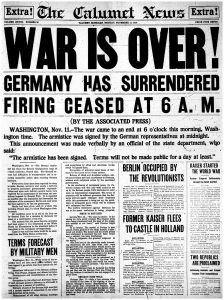 According the Daily Mining Gazette, "citizens appeared on the streets…parades were formed, flags appeared from every housetop and the business sections were soon ablaze with the national colors." By that afternoon, "citizens of nearby towns came to the city and joined in a general demonstration" with "a big military and civic procession at the armory."
Interested in learning more about the soldier experience in the trenches during World War I? Be sure to check out the outdoor exhibit, "Dug In: Experiential WWI Trench" located on the Michigan Tech campus at the corner of US-41 and MacInnes Drive, while you can! The exhibit showcases an actual trench dug into the ground, which spans several yards along campus. Christopher Plummer and Sound Design students created the audio component to the exhibit, which incorporates recordings of "memorial poetry and selections from soldier memoirs" with simulated battle sounds. The exhibit will cap this Sunday, November 11 with a commemorative ceremony featuring the local VFW and American Legion groups, ROTC, and JROTC as they fill in the trench. You can more information about the event on
Tech Today
.