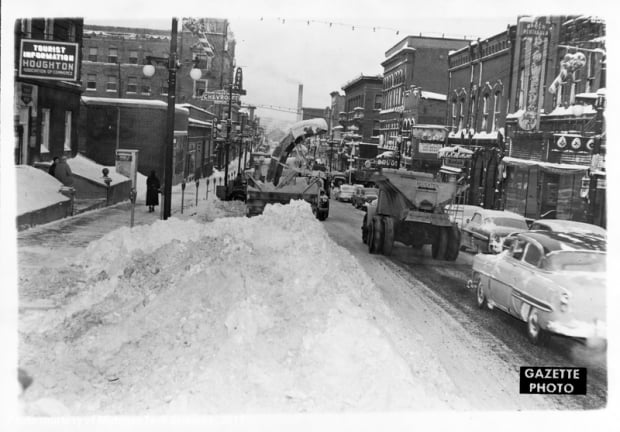 It's been a wild and wacky snow season so far in the Copper Country. We're beginning to think that Heikki Lunta can't seem to make up his mind this year. We've seen plenty of rain, snow, and wintry mixes out there, which is why we're taking a moment during our Flashback Friday this week to give a little shout out to all of those who keep the roads and sidewalks clear and safe each winter.
Back in early January 1958 the Daily Mining Gazette ran an article praising the area's snow removal practices, citing the excellent cleanup effort completed following a "heavy storm that reached blizzard proportions" the first week of the new year. The Gazette noted that the city of Houghton (pictured here) might seem "phenomenal to an outsider" because the streets were cleared almost entirely to the sidewalks, which had also been exceptionally cleared.
It's true that the Copper Country annually sees upwards of 150 to 200 inches of snow and sometimes much more, like the 1978-1979 year where record-high seasonal totals reached 355.90 inches. Big snow means that the Copper Country is also home to some of the most efficient snow removal practices out there. As noted in the Gazette piece, it also means that snow researchers from around the country and the world come to the area to "study local methods and equipment" for snow removal — just think about that during our next big snowfall.
You can also find more amazing snow and snow removal photographs held at the Michigan Tech Archives by visiting our Copper Country Historical Images database at 
www.cchi.mtu.edu
 or by visiting the archives during our regular research hours, Monday-Friday, 10 a.m. to 5 p.m.
Thank you to all of those who keep our roads clear and accessible each winter and all year round!