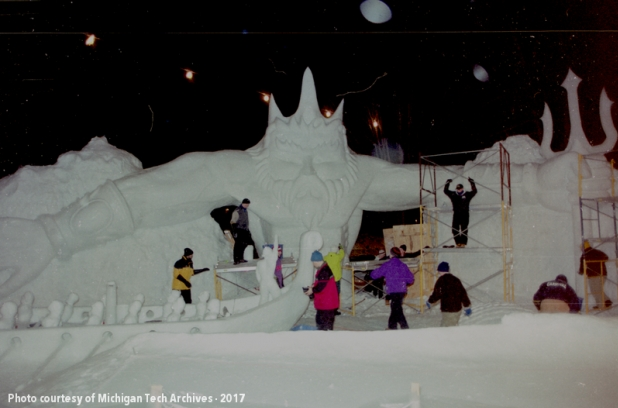 Today's Flashback Friday celebrates all things Winter Carnival with this image from on this day in 2001. Students work diligently to finalize their statue just as our campus community saw a few nights ago during the 2019 all-nighter.
Winter Carnival is a time-honored tradition here at Michigan Tech, with its beginning taking place back in 1922 when the Student Organization presented a one-night show called the "Ice Carnival." The show consisted of acts, whimsical displays and performances put on in the traditional circus style, with students in an assortment of costumes. The show was held in the old Amphidrome ice rink, so of course the carnival also included ice skating events, including speed and figure skating contests. The circus theme continued for the next two years and, behold, the tradition was born.
The carnival progressed and made changes as the years went on, with the addition of a Carnival Queen competition and the parade in 1928. There is film footage of the 1928 carnival available on YouTube.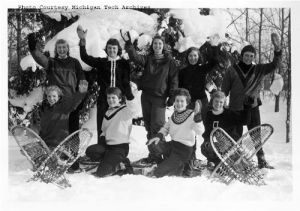 After 1929, there was a lapse of a few years, but in 1934 the Blue Key Fraternity took over the sponsorship of the festivities and put one on that year. The Winter Carnival of '34 looked more like the carnival of today, with a two-game hockey series, a parade, skiing, skating, and snowshoe races, and a dance. The focal point of carnival was the parade, with Greek organization, campus societies, and other student organizations developing elaborate floats.
1936 was the debut of the snow statues, which were built by students and student organizations, as well as local school children. As information on the building methods was passed on from year to year, the statues became bigger and more elaborate, with fine detail work and inclusion of ice art.
Decades, and nearly 100 years later, Winter Carnival continues to be a most treasured time of year for Michigan Tech. This year's theme is "Years of Innovation STEM from this Snowy Situation." For more information about activities, contest results, and more, please check out the official Winter Carnival website.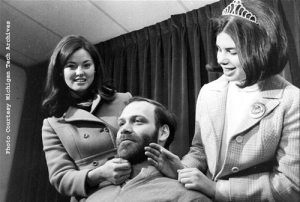 The Michigan Tech Archives will be open for Second Saturday during Winter Carnival from 12 p.m. to 5 p.m., Saturday, February 9. Take a break from statue gazing and stop in to see some memorabilia and photographs from Winter Carnivals gone by. For more information, please call the archives at (906) 487-2505 or e-mail copper@mtu.edu.