The National Hockey League (NHL) Stanley Cup Playoffs are just around the corner, so for Flashback Friday it seems appropriate to fondly remember one of the most recognizable NHL faces connected to Michigan Tech hockey; Tony Esposito! This photograph appeared in the Daily Mining Gazette on Monday, March 22, 1965. The image depicts Tony holding the NCAA hockey championship trophy. Esposito tended goal for the Huskies that season and held Boston College to only two goals in the 8-2 championship final.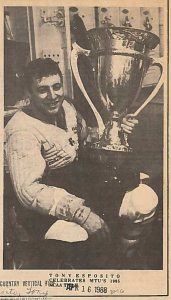 Esposito has some pretty impressive stats from his Michigan Tech days, some which have stood the test of time:
Three year letter winner

Three time All-America first team selection

Three time All-WCHA first team selection

Named first team NCAA All-Tournament Team choice in 1965

Currently second in goals against average (2.55)

Currently third in career saved percentage (.912)
Esposito's post-Michigan Tech career included a legendary 17-year run in the NHL. His debut was with the Montreal Canadiens during the 1968-1969 season against the Oakland Seals, a relief for starting goalie Rogie Vachon. But more interesting was Tony's first NHL start, which was a match against the Boston Bruins on December 5, 1968. Tony's older brother Phil, an intimidating center and seasoned NHL ice man, was a leading threat on the Bruins. Oddly enough, Phil recalls the night being one of apprehension:
"I think I was more nervous than Tony that night. In fact, it was probably the most frightful game of my entire hockey career. I had been a pro since 1962 and was then in my sixth season in the NHL. I was an established player getting ready to shoot pucks at my own brother, who had been in the league only one week." – Phil Esposito, excerpted from The Brothers Esposito
The game ended in a 2-2 tie. Phil scored both goals for Boston, which Tony recalls as being "lucky shots" which he "should have gotten glove on," but at least he was able to hold his brother to only the two goals. It is important to mention, Tony made an impressive 33 saves in his first NHL start.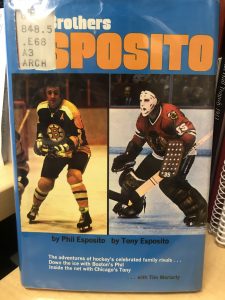 Not since their street hockey days back in Sault Ste. Marie, Canada had the brothers found themselves on opposing teams. To say the least, it was a historic moment, and one that adds the necessary dose of drama that makes for good hockey stories and sets the foundation for legend-status. Both brothers have been inducted into the Hockey Hall of Fame and have been named on the 100 Greatest NHL Players' in history list.
Tony's run with the Habs lasted for only one season and he would go on to join the Chicago Blackhawks off waivers for the 1969-1970 season. He put up a phenomenal season, recording record-breaking shutouts and winning a lot of league accolades, including the Calder Memorial Trophy and the Vezina Trophy. This is the year that earned him the nickname Tony 'O' for his shutout skills. Esposito remained with Chicago the duration of his on-ice career, making it to the Big Show several times. However, the Stanley Cup alluded him. But clearly, not all legends get to hoist the Cup.
Every now and then, there is a good Tony 'O' story that comes across us in the archives. To us, he will always special, and yes, always a Husky!