The Michigan Tech Archives welcomes the Hubbell Family during their campus visit today. In celebration of their visit, our Flashback Friday this week features a closer look at a piece of campus history tied to the Hubbell Family — Hubbell Hall.
At the time of its establishment in 1885, the Michigan Mining School (later named Michigan College of Mines, Michigan College of Mining and Technology, and finally Michigan Technological University) occupied part of the Continental Fire Hall in downtown Houghton.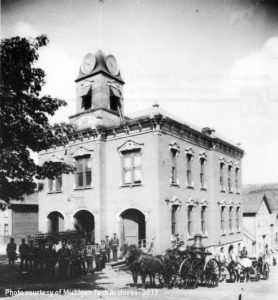 As class sizes grew, additional space was needed to support the new school. To solve this issue, the Michigan Mining School developed plans for a new, larger building close to downtown that would be able to provide the additional space the school needed. In 1887 John Scott & Co. was hired as principle architects for the new building with contractors from Wahlman & Gipp and I. E. Swift Company. By 1889 the new building was completed at the intersection of Hubbell Avenue and College Avenue.
The new Romanesque-style building featured new lecture halls, gymnasium, and library. It was constructed with Jacobsville sandstone walls and featured a distinctive central tower. The building was initially referred to as State Hall or just "first school building," according to sources, but following the death of the building's principal benefactor, Jay A. Hubbell, its name was changed in his honor. Hubbell was a well-known politician and judge for the state of Michigan, serving as a district attorney for the Upper Peninsula and prosecuting attorney for Houghton County prior to becoming a member of the House of Representatives.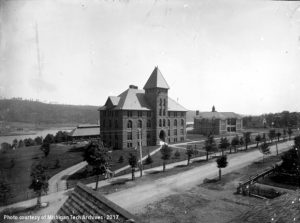 Hubbell Hall eventually became the building devoted to the math and physics departments until the late 1960s when both departments relocated to another building on campus. While Hubbell Hall was a central, distinctive feature on the Michigan Tech campus for nearly 80 years, by 1968 the building was in somewhat of disrepair and demolished.
Today the 11-story R. L. Smith (MEEM) building stands in the Hubbell Hall footprint, taking its place as one of the most distinctive buildings on campus. While Hubbell Hall is no longer a feature on the campus landscape, its importance to the history of Michigan Tech is well-preserved in the memories of those who attended school while it still stood and in the records preserved by the Michigan Tech Archives.