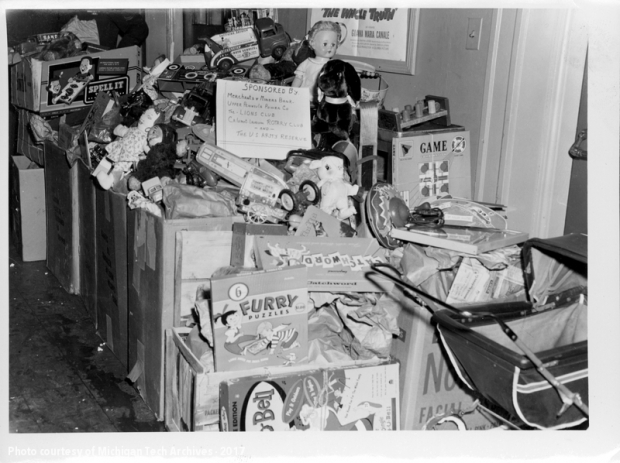 Our Flashback Friday photo this week takes us to Christmastime in Calumet in 1958. The Calumet Theater must have been quite the site on December 9, 1958  with the lobby overflowing with toys and roughly 600 children in attendance for a charitable celebration. Sponsored by the Merchants and Miners Bank, the U.P. Power Co., the Lion's Club and the Calumet-Laurium Rotary Club, kiddos from the Good Will Farm enjoyed a comedy program and a cowboy moving picture show on the screen. New and used toys were donated by the public and given to the Good Will Farm children.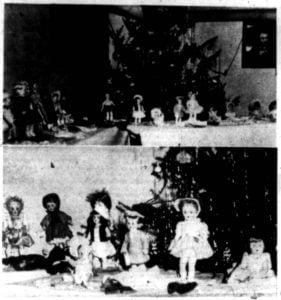 The Saturday before the event, the Ladies Auxiliary of the American Legion Ira Penberthy Post 61 in Calumet sponsored a Dolls Tea for the children of the Good Will Farm. Dolls were clothed in dresses hand-made by members of the auxiliary and a variety of other clothes and accessories were on hand for the dolls to wear throughout the day. Additional contributions from the fundraiser went towards the purchase of toys for the boys at the Good Will Farm. Food and refreshments were provided by the event committee and others while the tea was poured by past presidents.
Have you finished your holiday shopping yet?  Well if you haven't, don't worry, there's still plenty of time and be sure to pick up a teddy bear to toss at tomorrow's Michigan Tech Hockey game against Clarkson — they'll be doing the teddy bear toss for Toys for Tots during the first intermission!