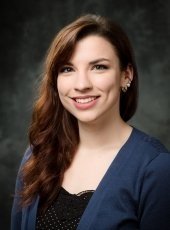 On behalf of the Michigan Technological University Archives and Copper Country Historical Collections, a department of Michigan Tech's Van Pelt and Opie Library, we hope you will help us welcome the newest member of the team, Kimberly McMullan. Kimberly is our newest Library Assistant, a position which supports the Archives with excellent customer service, patron support, collaboration, and creative problem solving. Below, please take a moment to get to know Kimberly as she introduces herself in her own words.
---
Hello! 
I'm Kimberly McMullan, feel free to call me Kim or Kimberly. I have been part of the Michigan Tech community for about three years as part of the Chemistry Department, but have lived in the Houghton area for quite a few years. I am very excited to now be a part of the Michigan Tech Archive team. There is so much to learn, I can not wait to dive in!
Now for some fun facts. I am part of the local roller derby team, Keweenaw Roller Derby. Come spring I will be starting my fifth season playing. Other than derby, during the summer I am outdoors as much as possible; in the winter, not so much. I still enjoy snowshoeing and downhill skiing, but would much prefer to hike to a waterfall or sit on a beach in the summer. Another fun fact is that I grew up on a farm with horses, goats, and chickens, and have been around animals of all sorts my whole life. Which means my love of animals started at a very young age.
Please stop in and say hello, and bring your best questions to help me learn! Bonus points if you bring cute animal photos too.
---
Welcome aboard, Kimberly! We are so happy to have you join the Michigan Tech Archives team!
For more information about the Michigan Tech Archives please call (906) 487-2505 or e-mail copper@mtu.edu. You can find us on Twitter: @mtuarchives