Thurner Bakery was a family affair from the very beginning.
At the start of its life in 1920, family businesses were hardly curiosities. Small storefronts neighbored Thurner's all along Fifth Street in Calumet, many of them run with the assistance of a proprietor's spouse, siblings, children, or grandchildren. By the time the bakery shut its doors in 2003, however, its family operation and emphasis on handmade work set it apart and tilted the odds against its survival.
Twenty-six-year-old Joseph Thurner arrived at Ellis Island on March 14, 1913, as a third-class passenger aboard the S.S. Barbarossa. A native of Germany, he gave his occupation as baker, unsurprising in light of his subsequent business. Thurner did not originally plan to make his home in the Copper Country: he joined his uncle, Wenzel Thurner, at Oshkosh, Wisconsin. Three months later, twenty-year-old cook Franciska Dümke stepped off the Kronprinz Wilhelm in New York City. She, too, was bound for Wenzel Thurner in Oshkosh–and for young Joseph Thurner, who the manifest indicated was her "int[ended] husband." According to family lore, the two had met and fallen in love in Berlin before opportunity overseas beckoned Joseph away. They were married on July 5, 1913, the day after Franciska, soon to be known as Frances, arrived in Oshkosh.
The Thurners remained in Wisconsin for a few years and there welcomed three children: Helen, Frank (named after Joseph's father), and Elizabeth. As World War I raged in their native Europe, the Thurners heard of the boom that war demand for copper had created in the Keweenaw Peninsula. Bakeries there needed workers, and Joseph decided to answer the call. He worked first at Hancock's Star Bakery, then at Moffitt & Clark in Laurium, the town that the Thurners called home. Henry, their next son, was born there in December 1919. As Joseph continued to bounce from bakery to bakery in the months that followed, someone suggested that he might like to establish his own concern. He and Frances decided to give it a try, and Quality Bakery had its first day of business out of their home on August 1, 1920.
Feeding the hungry people of Calumet and Laurium was no small task. Both Thurners put their blood, sweat, and tears into making a success of Quality Bakery. Joseph brought the best techniques he had cultivated in his European apprenticeships and his Midwestern adulthood to the business, baking in the small hours for maximum morning freshness. He introduced a new innovation, as well: a delivery bicycle. Local residents became accustomed to the sight of Joseph pedaling his bicycle, laden with loaves of bread and other bakery items, from customer to customer. In heavy snowfall, he biked along the streetcar tracks, knowing that snow would be blown clear from them. Frances's assistance in the bakery and with general upkeep ensured that the business was true to its Quality name.
The bakery faced challenges in its first decade of operation that might have crushed a couple with less fortitude than Joseph and Frances Thurner. In 1927, their home and basis of operations burned to the ground. Quoted posthumously in a Peninsula News article about the bakery, Joseph described a total loss: "The lovely furniture we bought when we first came to Hancock was gone. All the dishes, bedroom furniture, dining room set: we lost it all in the fire in Laurium." No one was injured, thankfully, and the Thurners were undaunted. With the help of an insurance policy and a generous landlady, the bakery reopened just a few months later at 319 Fifth Street in Calumet. It occupied that address for the rest of its life.

The arrival of the Great Depression two years later might have ended that life prematurely, but the Thurners pulled together. From those who could not pay cash for their bread, Joseph accepted trades of groceries and farm products, which made their way to the full apartment upstairs. Seven children had been born to the Thurner family by this point, and all who could chipped in to do their part in the business below. Frank, the oldest son, became his father's most enthusiastic apprentice.
Quality Bakery survived and grew through the Depression and into World War II. The Thurners added one more child to their family, and people of Calumet spoke of Quality Bakery as Thurner's Quality Bakery or Thurner Bakery. In the 1940s, Frank, joined by his wife Rhoda, assumed increasing responsibility for running the family business. Maintaining the standards of handiwork and quality product he had learned at his father's side, Frank also harnessed the spirit of innovation that had led Joseph to deliver bread by bike. He bought new delivery trucks and improved the ovens, keeping up with the best of modern technology. Meanwhile, Rhoda frosted cakes, rolled out buns, and balanced books with zest. The bakery, its reputation, and its circulation of product grew.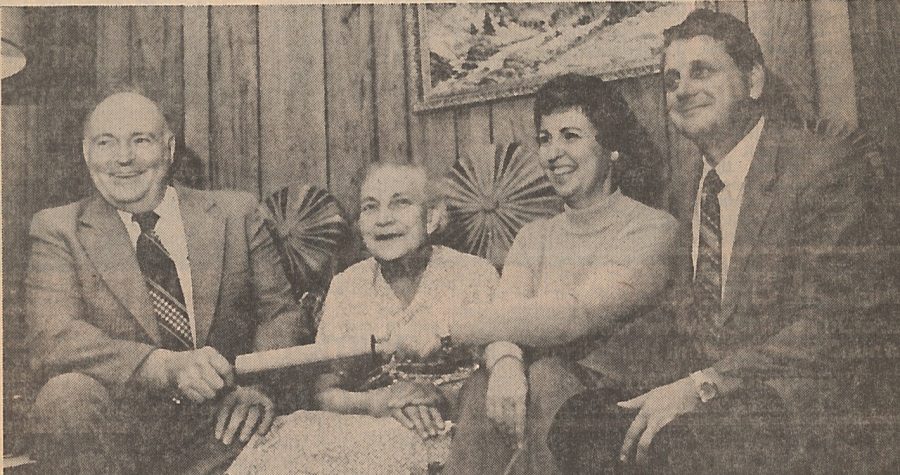 The second generation officially handed Thurner Bakery over to the third in 1977, but Frank stuck around for six years out of love of the business. Nancy Thurner Pintar and her husband, Jim, were the new owners, and they expanded their sales throughout neighboring counties. The bakery retained a family feel, with employees remaining loyal for decades at a time. These years, however, presented difficulties tantamount to the Depression and the fire of 1927.
Ever since the 1950s, Thurner Bakery had resisted the national trend toward automation and changing recipes to include preservatives and create cheaper product. Although the company held out for decades by focusing on local sales and eventually opening a storefront that gathered regular customers for daily doughnuts, economic forces eventually overwhelmed it. Costs rose for everything–for fuel, for labor, for supplies–in the late 1990s and early 2000s, and profit margins grew slimmer than ever. Despite making deep investments from his own funds and valiantly fighting to keep the bakery open, Mike Pintar, the fourth-generation owner, finally conceded defeat in late 2003.
When the lights went off at Thurner's on Fifth Street on the final day, however, they could not erase the eighty-year legacy of an immigrant couple making a better life for their descendants, one loaf of bread at a time.
Many articles from the Daily Mining Gazette, Copper Island Sentinel, and Peninsula News, especially Dennis Walikainen's 1995 profile of the business, provided valuable information for this blog post.