The Michigan Technological University School of Business and Economics announces its 2019 inductees to the esteemed Academy of Business. These four individuals join a group of outstanding leaders in business and civic affairs, as well those who have contributed significantly to the growth and development of the School of Business and Economics (SBE).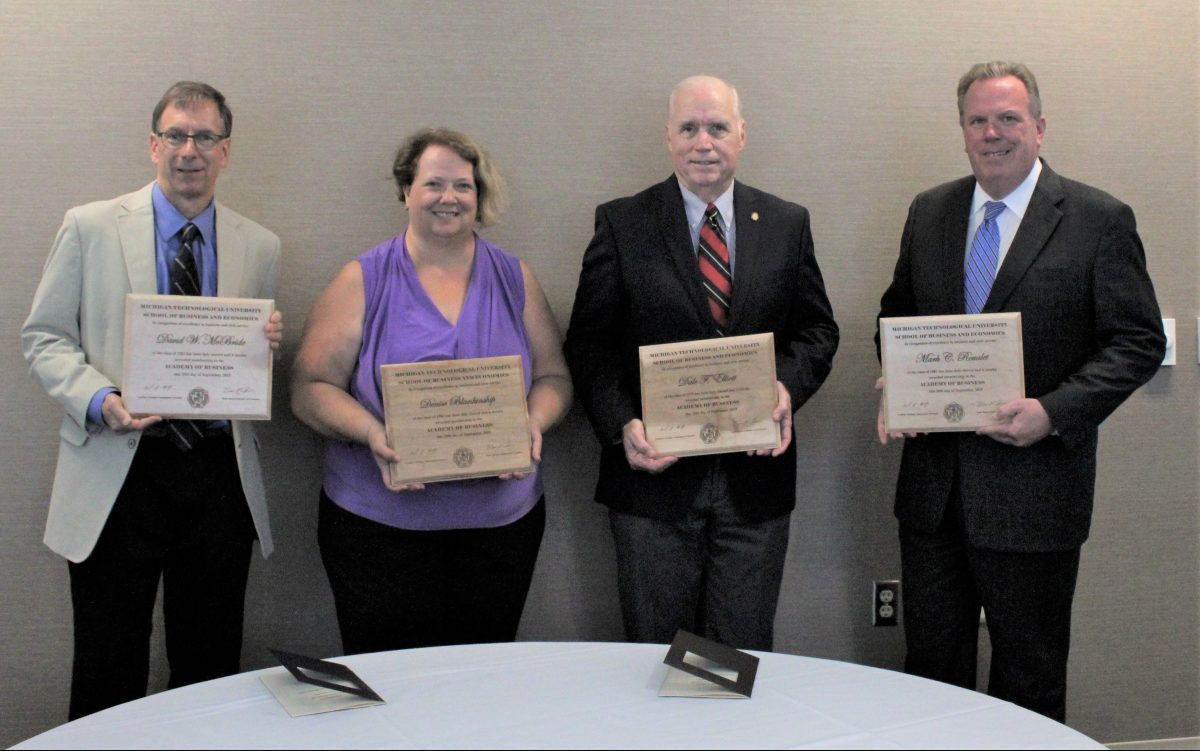 The new inductees were honored at a celebratory dinner in the Great Lakes Research Center on the evening of September 20:

David W. McBride '82, owner, McBride Remodeling Inc. and Northland Self Storage LLC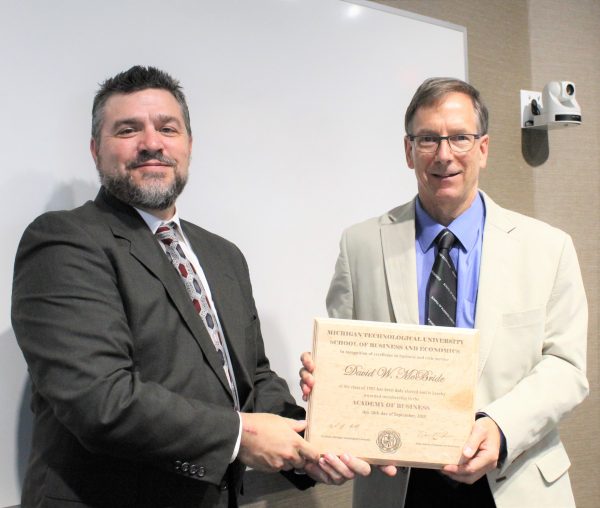 David McBride leads an award-winning team of highly trained professionals who are leaders in the home improvement and storage industry. He has grown the construction division to become one of the top 500 in the country. In the storage division, he actively manages three facilities and more than 500 customer relationships. 
Highlighted projects include developing a 25-acre industrial park in a former gravel mine, converting a drive-in theater into a commercial center, and receiving the Governor's Award for Historic Preservation in 2017 for the Douglas House renovation. 
McBride is a proud supporter of Michigan Tech Summer Youth Programs. 
Dale F. Elliott '79, president and CEO, FCM Advisory Group, Ltd
Dale Elliott has a long association with Michigan Tech. Seven members of his immediate family have graduated from the University. Elliott earned a TechMBA in 1979, after earning his bachelor's degree from Michigan State and then working in the family tool-and-die design and engineering business. 
On campus, he was a member of Sigma Tau Gamma fraternity. 
After Michigan Tech, Elliott joined Brunswick Corporation as an advanced management trainee. He then spent 11 years with Emerson Electric, starting with the Dremel division as marketing manager.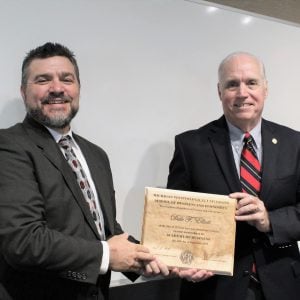 After a few successful years he was promoted to general manager of Dremel and was then selected to be vice president of marketing for the S-B Power Tool business, a joint venture between Emerson and Robert Bosch GmbH. This experience provided many valuable lessons about managing an international business and the importance of culture in a global organization. 
In 1995, he took a position with Snap-on Tools Inc., as president of the industrial and power tool business. He was named chairperson, president, and CEO of Snap-on Tools in 2001 and over the next three years he developed the strategy and tactical plans that set the stage for their future growth and profitability, while addressing the economic impact of the September 11, 2001 attacks. 
After retiring from Snap-on, Elliott was called on to become president of American Standard's Global Bath and Kitchen business, a global market leader with more than 26,000 employees. 
Currently, Elliott is president and CEO of FCM Advisory Group, Ltd. a business consulting company he founded in 2007. His efforts are focused on a process called "Full-Circle Management," which ensures that the activities of an entire organization align with company goals and objectives.
He has served on the School of Business and Economics National Advisory Board and is a Michigan Tech Fund Life Trustee as well as a member of the President's Advancement Council.
Denise Blankenship '84, retired vice president of business analysis of Church Pension Group  
Throughout her career Denise Blankenship held numerous positions in the information technology field with a focus on business analysis and resource management.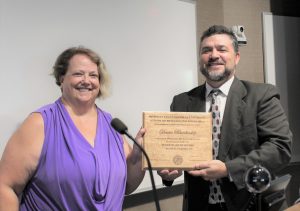 Most recently Blankenship served as the vice president of business analysis at Church Pension Group (CPG) where she was a senior IT manager responsible for partnering with corporate business leaders to define, prioritize, and develop IT strategy for supporting both IT and business projects. 
During her tenure at CPG, Denise established an enterprise business analyst program. She implemented numerous process improvement projects spanning web self-service, policy administration, document automation, and content management with a focus on efficient work-flow automation.

In 2011, she received the Women in Insurance Leadership Notable Achiever Award. 
Blankenship holds a BS in business administration from Michigan Tech. She has served on numerous vendor Customer Advisory Boards and is a member of the Presidential Council of Alumnae.

Mark C. Roualet '81, executive vice president, Combat Systems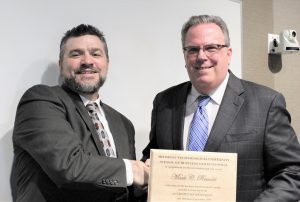 Mark Roualet is the executive vice president of General Dynamics for their combat systems group. This group  includes three companies: European Land Systems, Land Systems, and Ordnance and Tactical Systems. 
He held positions of increasing responsibility throughout his employment with General Dynamics Land Systems to include plant manager; vice president of the Interim Brigade Combat Team program; vice president of Wheeled Vehicle Systems; and senior vice president and chief operating officer. 
Roualet earned a bachelor's degree in business administration from Michigan Tech and a master's of business administration from the University of Dayton. He was recognized by Crain's Detroit Business Magazine as one of their "40 Under 40" executives and has received the Silver Star by the National Defense Industrial Association. 
In 2019, Roualet was elected to the Council of Trustees for the Association of the United States Army, a non-profit educational and development association serving America's total Army, soldiers and civilians, and their families.
Find the entire Academy of Business here.