The Michigan Tech College of Business (COB) welcomed Paul Stinson on September 28, 2021. Since he graduated with his bachelor's degree in business administration from Michigan Tech in 1984, Stinson has held multiple VP and C-suite positions for leading healthcare IT companies.

Stinson is an accomplished executive with 35 years' experience in the field of Healthcare Information Technology, having held roles with Sunquest, Sage, and MediQuest. He has delivered hundreds of global products and services to the healthcare community from conception to commercialization. Stinson is currently a member of the Healthcare Information and Management Systems Society and the Product Development and Management Association.

During his campus visit, he weaved his expertise and passion for business education into a learning experience for the students and faculty, sharing real-world business anecdotes and opportunities in the field of Healthcare Information Technology.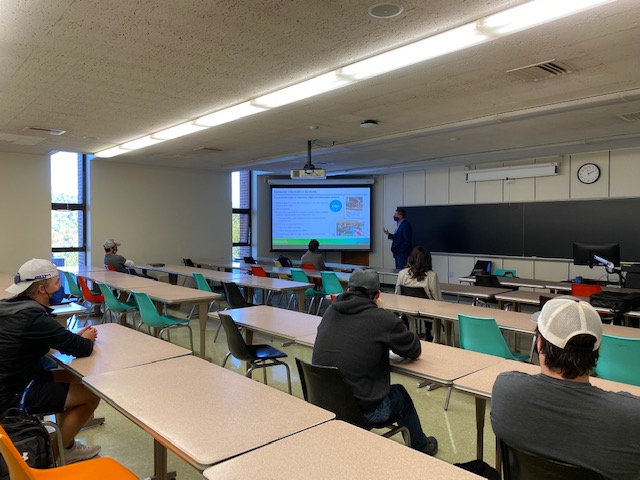 While on campus, Stinson interacted with the COB students in three classes—Operations and Supply Chain Management; Project Management; and Sales and Sales Technology. Dr. Junhong "Jun" Min, associate professor of marketing, pointed out, "Students learned how data makes sales work, and his thoughts on the future really inspired them."
Third-year marketing major Jaxon Verhoff said, "Mr. Stinson took the time to give me direction and advice on how to maximize the value of my MTU education in my career."

Stinson's experience complements new COB faculty member Tripti Singh's expertise on healthcare information systems; her work includes the adoption of healthcare technology, information privacy, and health information disclosure issues among patients in the healthcare domain. Research in this area enriches the application of MIS and could benefit future multidisciplinary projects with the development of Tech's H-STEM complex.

Paul Stinson currently serves on COB's Dean's Advisory Council.
About the College of Business
The Michigan Tech College of Business offers undergraduate majors in accounting, construction management, economics, engineering management, finance, management, management information systems, and marketing, as well as a general business option. Graduate degrees include the TechMBA®, a Master of Engineering Management, a Master of Science in Accounting, and a Master of Science in Applied Natural Resource Economics.