On Thursday, April 17, 2008, CenTILE sponsored the first Elevator Pitch Competition on the Michigan Technological University campus. Ten student teams competed for $1,750 in prize money.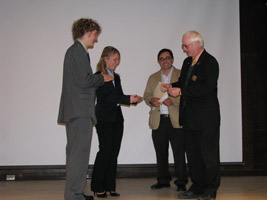 Kyle and Lauralee receving their prize from Dr. Paul
Nelson and Dr. David Orozco from the SBE
The video below is the first place team of Kyle Marsh, a recently graduated Mechanical Engineering student and Lauralee Kroll a junior Business major. Their Elevator Pitch dealt with the CPR Mattress which is currently being developed by a group of students called Tech Initiatives. Both Kyle and Lauralee are members of this student run company.
For additional videos and photos of the competition go to http://www.centile.mtu.edu/elevator_pitch.html.