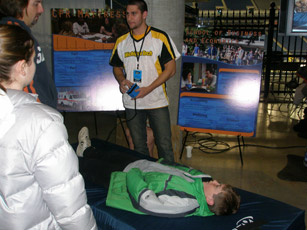 On November 8, around 20,000 Metro-Detroit students wandered the concourse of Ford Field in Detroit to learn more about science and engineering at the YES! Expo.
Two students from Tech Initiatives, a student-run start-up company, attended the event with their CPR Mattress, including senior business major Phil Franzo.
Franzo and four other students have been working with the Smart Trac program at MTU to take the project, which started out as a Senior Design project in Biomedical Engineering, and bring it to commercialization. They have already applied for a patent on the product.
The mattress features a deflating top half to allow better chest compressions during a cardiac arrest situation. A prototype has been created which includes a small motor at the foot of the bed.
Three of the team members include engineering students, Kyle Marsh, Kristin Cauley, Tim Dewey, and scientific and technical communications major Richard Goodell.
The students have already made a formal presentation to Stryker Corporation in Kalamazoo to Stryker's research and development department. They have recently received a grant to build additional prototypes which will be the next step of getting the mattress out to the market.