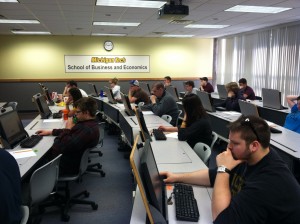 While most students had already left Houghton in the rearview following five days of finals, 22 School of Business and Economics students gathered for yet one more exam. The Bloomberg Aptitude Test (BAT) was developed in collaboration with financial professionals, recruiters, and academics to uncover knowledge and skills relevant for a financial career.
"Bloomberg already provided students with Bloomberg Certification in the use of the Bloomberg terminal.  Now Bloomberg has strengthed its commitment to students achievement through the BAT," said James and Dolores Trethewey APMP Professor Dean Johnson. "The BAT allows Bloomberg to bring prospective employers together with skilled investment students."
Over thirty five thousand people around the world have completed this proctored exam, specifically designed for people who are interested in working with investments. The 165-question exam covers topics ranging from financial statement analysis to portfolio management, ethics, and logic in a three-hour period.
Brent Halonen, a 2011-2012 member of the Applied Portfolio Management Program achieved a notable accomplishment by placing among the top 525 (1.5%) test takers. "The BAT is was a good opportunity to show the world what we learned in school in a unbiased environment," said Brent. "I think my results reflect the strength of APMP and the educational opportunity that it represents."
Congratulations to Brent and the rest of the test takers.