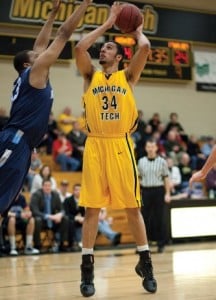 Michigan Tech men's basketball player Ali Haidar has earned Daktronics Midwest All-Region first team honors. He was a second team selection in 2011-12.
Haidar, a BSEE senior in the Department of Electrical and Computer Engineering, was named GLIAC Player of the Year for the second straight year and has broken four GLIAC records and seven school records this season. The Windsor, Ont., native broke the league record for points (541) and field goals made (188) in a season. He also established season records for free throws made (158) and attempted (209).
His school records include season scoring (698) and rebounding (273), rebounds in a career (881), most 20+ point games in a season (22) and free throws made (18) and attempted (20) in a game.
Haidar, who ranks fifth in career scoring (1,927) at Michigan Tech, ranks third in the nation in scoring (24.9 ppg) and 16th in rebounding (9.8 rpg).
Original story by Ian Marks, assistant director, athletic communications and marketing posted in Tech Today, 3/18/13.
For more information regarding Ali Haidar see http://www.mtu.edu/umc/services/pr-news/magazine/winter1112/stories/star-east/