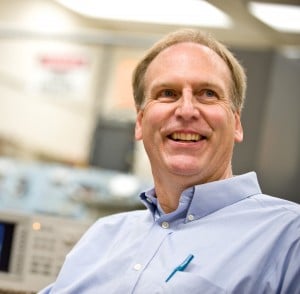 Bruce Mork, a professor in the Department of Electrical and Computer Engineering, has been named the Dennis Wiitanen Professor of Electric Power Systems.
The Wiitanen Professorship was established to honor longtime ECE faculty member Dennis Wiitanen, who retired in May 2012. Unlike most professorships, which are named for a single donor, the Wiitanen Professorship is supported by an endowment underwritten by a variety of industry, foundation, and alumni sources, including ITC Holdings, Consumers Energy Foundation, DTE Energy Foundation and electrical engineering alumnus David Brule.
Mork was named to the position after a yearlong selection process. He received high praise from leaders in the power industry and was unanimously supported by the major sponsors of the professorship.
"Bruce is the natural choice for the Wiitanen Professorship," said Dan Fuhrmann, chair of electrical and computer engineering. "He has been a leader in teaching, research and curriculum development in the power and energy area within the ECE department and across campus for many years. He is a leading expert in power system protection, an area of critical need in the utility power industry as our infrastructure transitions to the smart grid. Plus, he was the driving force behind our online courses in power and energy, a model for the rest of the department and indeed the rest of the University."
Dennis Wiitanen was also gratified by Mork's appointment.
"I have had the pleasure of watching Bruce grow from a newly minted PhD assistant professor at Michigan Tech to an internationally recognized leader in the power field," he said. "I am very pleased that he will be the first recipient of the professorship carrying my name."
Bruce Mork was honored in his acceptance.
"It's been a privilege to work with Dennis over the last 21 years of his outstanding 42 year career at Michigan Tech. He's been an exemplary senior colleague and role model for us all. It's an honor for me to be the first recipient of this prestigious Professorship. The resources provided will support ongoing developments in education and research which strategically address technology and work force needs of the Electric Power sector. We owe a lot to Dennis and this will greatly help us to maintain and advance our strong program."
The professorship has a five-year renewable term and carries with it an annual discretionary stipend to support research equipment, graduate students and other expenses to build and maintain an active research program in the power area.