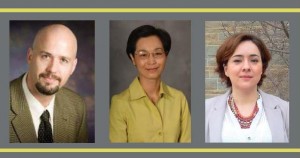 Two associate professors and one new assistant professor have been awarded named professorships in the Departments of Electrical and Computer Engineering and Mechanical Engineering-Engineering Mechanics.
ECE faculty member Wayne Weaver has been named the Dave House Associate Professor of Electrical Engineering. Weaver is an expert in microgrids, electrical machines and control of power systems. He collaborates extensively with mechanical engineering faculty, in particular Gordon Parker, who holds the John and Cathi Drake Professorship.
Bo Chen has been named the Dave House Associate Professor of Mechanical Engineering and Electrical Engineering. She is an expert in embedded sensor networks, multi-agent systems, and vehicle electronics and control.
Chen, who formerly held a sole appointment in the ME-EM department, will now hold a joint appointment in ME-EM and ECE, with the majority appointment in ME-EM.
Lucia Gauchia will join the Michigan Tech faculty this fall with a joint appointment in ECE and ME-EM, with the majority appointment in ECE. She has been named the Richard and Elizabeth Henes Assistant Professor of Energy Storage Systems. She is an expert in energy storage systems and state estimation for batteries and supercapacitors.
The awarding of two of these three professorships was the result of a cooperative agreement between the ECE and ME-EM departments, as it involved a "swap" of endowed positions. Dave House is an ECE alumnus, whereas Richard Henes is a ME-EM alumnus.
"I am delighted that ECE and ME-EM were able to work out this arrangement," Fuhrmann said. "If Michigan Tech is to continue its success in energy systems, electric and hybrid electric vehicles, and control and automation, it's going to require the close cooperation of our two departments."
ME-EM chair Bill Predebon agreed.
"I am very excited about the growth in collaboration between the ME-EM and ECE departments," he said. "These joint appointments are significant step in that direction. Our vision to establish a leadership position in the energy systems area will require a continued strong cooperation between our two departments."