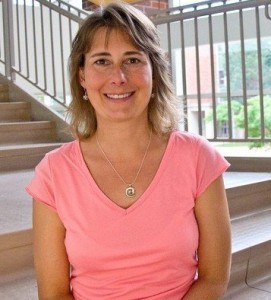 Judy Donahue, an academic advisor for undergraduates in electrical and computer engineering, has been named the recipient of a Faculty International Development Award. The award–co-sponsored by the Provost's Office, International Programs and Services (IPS) and USAC, a study-abroad provider–will enable Donahue to spend five weeks at a study-abroad site in Viterbo, Italy, next summer.
At Viterbo, Donahue will study Italian language and culture.
The aim of the award is to provide academic advisers with the opportunity to study abroad themselves, so that they can better advise students on the value of study-abroad experiences.
"I can't think of a more deserving candidate to receive this award," said IPS Director Thy Yang. "Judy has been one of our strongest champions for study abroad, and we trust that her experience will give her the first-hand knowledge she needs to do an even better job of convincing students of the value of gaining an overseas experience.
Yang said she also believes that Donahue's time overseas will help her better understand the needs of Michigan Tech's international students.
Associate Provost Christa Walck added: "One of our university student learning goals is global literacy and knowledge of human culture." The best way to develop this literacy is study abroad, and relatively few Michigan Tech students do. Academic advisors are very important to encourage and guide students to take advantage of our many study-abroad opportunities. When Thy Yang told me about this opportunity for advisors, I was happy to support it. As a dedicated and enthusiastic advisor and a member of the Advising Council, Judy is so deserving of this opportunity to experience study abroad first-hand."
As posted in Tech Today, 12/13/2013