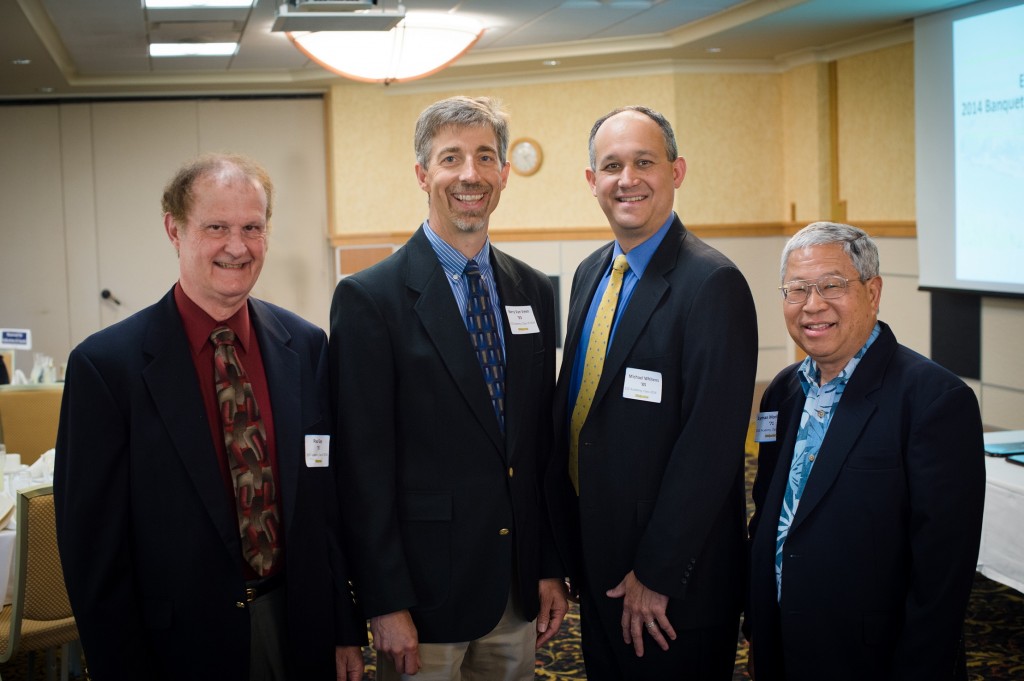 The Department of Electrical and Computer Engineering welcomed five of its outstanding alumni to the ECE Academy, Class of 2014, at an induction ceremony held on Wednesday evening, August 6, in the Memorial Union Building Ballroom on the Michigan Tech campus. Inductees for the Class of 2014 are H. Paul Gay '70, Lawrence Laurich '65, Lyman Morikawa '71, Barry Van Veen '83, and Michael Whitens '85. Mr. Laurich was unable to attend the ceremony due to illness and will be presented his induction plaque next week during a visit from Department Chair Dan Fuhrmann.
The inductees and guests also enjoyed a special message from guest speaker George Swenson, Jr. '44. Dr. Swenson's father was the founding chairman of the EE Department in 1928.
The purpose of the Academy is to honor outstanding graduates of the Department of Electrical and Computer Engineering at Michigan Technological University. Election to the Academy is made by the Executive Committee of the faculty, and recognizes excellence and leadership in the engineering profession and civic affairs. This induction honors some of the most successful of the over 8,800 ECE alumni of Michigan Tech. Portraits of the new Academy members will be added to the prominent display in the lobby of the EERC building, to inspire and motivate future generations of students in electrical and computer engineering.
For more information see ECE Academy.