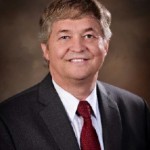 Seminar presentation jointly sponsored by Michigan Technological University's College of Engineering and the Departments of Biomedical Engineering and Electrical and Computer Engineering
Date: Monday, September 22, 2014; Time: 4:00-5:00 p.m.; Location: M&M U115
Title: Instrumenting the Human Body
Richard B. Brown, Ph.D., Dean of Engineering, University of Utah, Salt Lake City
Abstract: Advances in semiconductor technology are enabling research into, and treatment of, many human diseases. Prof. Brown will present a highly‐integrated, low‐power, wireless, mixed-signal microprocessor that was designed for implantable biomedical applications, and braincomputer interfaces that enable researchers to monitor electrical firing of individual neurons, local field potentials, and chemical signaling in the brain.
Biography: Prof. Brown earned the degrees BS and MS in Electrical Engineering from Brigham Young University. After working in industry for six years, he returned to school at the University of Utah and received the degree PhD in EE in 1985, developing one of the first "smart sensors," an array of liquid chemical sensors with integrated electronics. Upon graduation, he joined the faculty of the University of Michigan, where he developed their VLSI program and conducted research on circuits (high‐speed, low‐power, high‐temperature, and radiation hard), microprocessors (high‐performance, low‐power, and mixed‐signal), sensors (for ions, heavy metals, and neurotransmitters), and brain‐machine interfaces. At Michigan he held an Arthur F. Thurnau Endowed Professorship. In 2004, he was appointed Dean of the College of Engineering at the University of Utah, where he has continued to do research on circuits, mixed-signal microcontrollers and neural interfaces. Prof. Brown has been a founder with his students of Mobius Microsystems (all‐silicon clock generators), i‐SENS (glucose sensors), Sensicore (water chemistry sensors), and e‐SENS (chemical sensors). He holds 17 patents, has authored more than 225 peer‐reviewed publications, and graduated 30 PhD students.