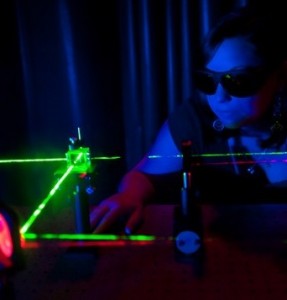 Mi-Light, the Michigan photonics industry cluster, announced the funding and award of $5,000 in scholarships to four in-state academic institutions. Baker College, Grand Valley State University, Michigan Technological University, and Northwestern Michigan College. Each college or university was allocated $1,250 to be awarded to students enrolled in photonics programs. For the complete press release see Manufacturing Engineering Magazine.
The Department of Electrical and Computer Engineering at Michigan Tech will award one recipient the Mi-Light Photonics Scholarship in the amount of $1,250 during the 2014-2015 academic year. Eligible students must meet the basic requirements: Undergraduate student; Electrical Engineering major; currently or have previously completed course work in photonics; minimum GPA of 3.0; and demonstrated intent of continuing within the field. Students interested in applying for the scholarship must submit a cover letter detailing your background, experience, and interests in Photonics to Dr. Christopher Middlebrook at ctmiddle@mtu.edu. Deadline to apply is November 1, 2014.
See ECE Photonics more information regarding the ECE Department's Photonics Concentration program.
About Mi-Light: Mi-Light is a non-profit organization serving Michigan's photonics industry by bringing together professionals from companies, academia and organizations to mutually support and promote photonics-related business. For more on Mi-Light visit: www.mi-light.org.
MEDC Statement: Funds for this initiative were provided by the 21st Century Jobs Fund, a Michigan Strategic Fund program designed to accelerate the growth and diversification of Michigan's economy. The MEDC, a public-private partnership between the state and local communities, provides administrative support for the 21st Century Jobs Fund. The MEDC markets Michigan and provides the tools and environment to drive job creation and investment. For more information on the 21st Century Jobs Fund initiative, visit www.MichiganAdvantage.org.For more on MEDC visit:  MichiganAdvantage.org.