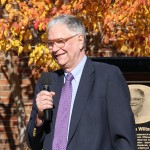 The unveiling of the first Legacy Marker for Alumni Way was held in front of the EERC. The Legacy Marker serves to honor someone associated with Michigan Tech, and it was unveiled and presented as a surprise to the Dennis O. Wiitanen, Professor Emeritus, Electrical and Computer Engineering.
Dennis O. Wiitanen received the B.S. and M.S. degrees from Michigan Tech in 1963 and 1967 respectively, and the Ph.D. degree from the University of Missouri-Rolla in 1970, all in electrical engineering.
In 1970, he joined the electrical and computer engineering department at Michigan Tech, where his major research interests were in the areas of insulating materials and power systems. Dr. Wiitanen taught courses in both electric machines and power systems for over forty years. He is currently a Professor Emeritus.
Dr. Wiitanen is a member of the IEEE's Power Engineering Society, Education Society, Industry Applications Society, and Dielectrics and Electrical Insulation Society, serving on several committees and subcommittees, and is a Registered Professional Engineer in the State of Michigan.
See the Video from UpperMichiganSource