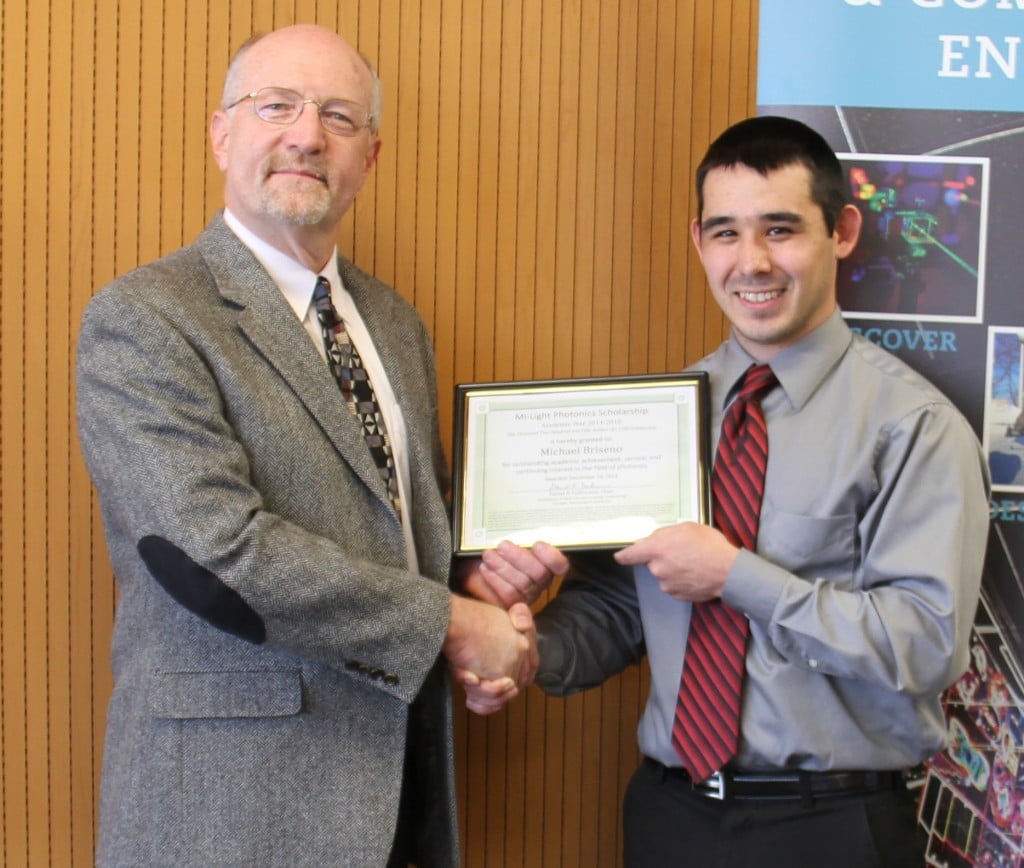 Michael Briseno, a senior double majoring in Electrical Engineering and Biomedical Engineering, was selected to receive a $1,250 Mi-Light Photonics Scholarship for academic year 2014-2015. The Department of Electrical and Computer Engineering at Michigan Technological University was among four in-state academic institutions to receive a share of the $5,000 scholarship funding provided by Mi-Light, the Michigan photonics industry cluster. The scholarship was created to support and promote photonics-related business in Michigan.
This fall, applications were accepted from undergraduate students majoring in electrical engineering; currently or have previously completed course work in photonics ; minimum GPA of 3.0; and demonstrated intent of continuing within the field. In addition to Briseno's desire to pursue a career in photonics/optics, he was selected for his academic accomplishments and service.
Briseno is a member of the International Society for Optics and Photonics and the Optical Society of America, serving as secretary of the SPIE/OSA student organization at Michigan Tech. As SPIE/OSA secretary, he participated in middle and high school outreach programs presenting photonics demos and talking with students. He notes that one of the most rewarding things of this experience was seeing the students' eyes light up as they learned about photonics through visually exciting applications. This past summer Briseno was hired by PPG Industries as a color scientist intern working with the optical properties of automotive paints and refinish.
Briseno also serves as president of the Society of Hispanic Professional Engineers (SHPE) and is a member of Michigan Tech's Memorial Union Board and Biomedical Engineering Society (BMES).
See ECE Photonics for more information regarding the ECE Department's Photonics Concentration.
Mi-Light is a non-profit organization serving Michigan's photonics industry by bringing together professionals from companies, academia and organizations to mutually support and promote photonics-related business. For more on Mi-Light visit: www.mi-light.org.
Funds for this initiative were provided by the 21st Century Jobs Fund, a Michigan Strategic Fund program designed to accelerate the growth and diversification of Michigan's economy. The MEDC, a public-private partnership between the state and local communities, provides administrative support for the 21st Century Jobs Fund. The MEDC markets Michigan and provides the tools and environment to drive job creation and investment. For more information on the 21st Century Jobs Fund initiative, visit www.MichiganAdvantage.org.For more on MEDC visit:  MichiganAdvantage.org.