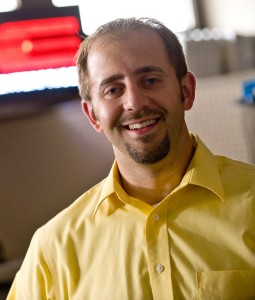 The Dean's Teaching Showcase nominee for this week comes from the College of Engineering. Dean Wayne Pennington has chosen to recognize Kit Cischke, a Senior Lecturer in the Department of Electrical and Computer Engineering, and faculty advisor for the Wireless Communication Enterprise.
Associate Dean Leonard Bohmann indicates that the "students love Kit because he brings his practical experience into the class, showing the practical applications of the theory." As evidence, Eta Kappa Nu, the Electrical and Computer Engineering student honor society, selected Kit as their Professor of the Year in both 2013 and 2014. Bohmann continues: "Kit has the ability to make complex topics easy to understand. He works hard to get students to understand and have fun doing it."
Kit indicates that he does this through analogies, humor, and being open and approachable to students. He strives to be a "complete human being" with his students, sharing stories about his family and life. He also tries to "embrace technology", using an iPad to deliver his lectures and an audio recorder so students can review them.
Kit has a long history of excellent teaching contributions at Michigan Tech. Brian Broeders, an alumnus who has been working as a product engineer for Plexus Engineering Solutions since 2009, praised Kit in a 2010 Linked In post for similar reasons. "He teaches class material in a clear and easy to understand format and his lab exercises help students make use of topics learned in class…I wish I had more instructors like him when I was in school." Current students also praise his involvement as an organizational advisor and the fact that he really cares whether students are learning the material.
Cischke will be formally recognized with the 11 other Dean's Teaching Showcase nominees at a luncheon near the end of spring term. Please join Dean Pennington and the Jackson Center for Teaching and Learning in thanking Kit for his outstanding contributions to the teaching mission of the College of Engineering.
Story as posted in Tech Today, March 25, 2015