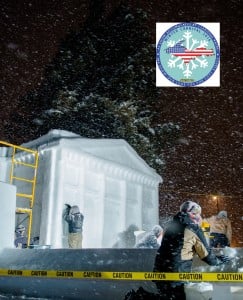 This week Michigan Tech is celebrating its annual Winter Carnival. The students have Thursday and Friday off from classes, and there are a lot of winter-related activities going on. The most visible sign of Winter Carnival for most of us is the collection of interesting and creative snow sculptures that have popped up all over campus. These attract a lot of visitors and media attention, and are a lot of fun.
Up to now I have used this column to write about electrical and computer engineering, and engineering education, but I thought this week it would be appropriate to take a break and write about something else that Michigan Tech is famous for: snow.
Michigan Tech is, according to AccuWeather.com and some other polls, the snowiest campus in the United States, with over 200 inches of the white stuff per year on average. Snow is definitely part of who we are, part of our heritage and culture. In a typical winter the snow starts up around Thanksgiving, gets pretty serious in December and January, then stretches into February and March, sometimes even into April. The city and the university are all geared up to handle the snow; they keep the roads plowed and haul the snow away to snow dumps out of town when necessary. All the residents of Houghton – most, anyway – have a plan to handle the snow in their driveways, sidewalks and lawns. We take it all in stride. To be honest, most of us are "snow snobs" laughing with derision at poor souls further south when a couple of inches brings a city to its knees.
200 inches of snow sounds like a lot – and I guess it is – but for the most part it is pretty benign. One can see major winter storms on the national news that dump one or two feet of snow all at once on some unfortunate region, and even though that can happen here too it's actually pretty rare. The reason we get so much snow is in the first place is something called "lake effect", in which cold Arctic air blows down out of Canada from the north and west, across Lake Superior, picking up moisture from the warmer water, forming snow in the air and then dumping it on the Upper Peninsula when it hits land. Lake effect snow doesn't need inclement weather to happen; I have seen snow falling and the sun shining all at the same time. Of course, we can also get what is called "system snow", meaning the same kind of winter storm systems that can happen anywhere in the upper Midwest. Our biggest events occur when both happen at the same time, something they call "lake effect enhanced snow." My main point here is that you don't need major blizzards to create 200 inches of snow in a year. You just need a little bit at a time, over an extended period of around 4 months, and as long as the temperatures remain cold it just piles up.
So what is all this snow good for? In a word, plenty. Houghton residents and Michigan Tech students know that the best way to deal with the snow is to get out and enjoy it. One of my favorite activities is skiing, both downhill and cross-country. (I'm not particularly good at it, but I don't let that stop me). For downhill skiing, Michigan Tech has its own Mont Ripley, just across the Portage from Houghton. It's not a huge hill, only 450 feet vertical, but what it lacks in size it makes up for in convenience. I have a season pass and can go on a moment's notice. Don't let the small size fool you, either: it has plenty of challenging runs. For the more adventurous skier, an hour away near Copper Harbor, is the cult favorite Mount Bohemia. This place is for expert skiers only (the trail map says "No Beginners Allowed" in bold letters) with 900 feet vertical and almost entirely black diamond runs, and none of it groomed. It includes 400 acres of glade skiing too with some of that rated as double and triple black diamond. With a bare minimum of amenities at the bottom, Bohemia is paradise for ski nuts. If cross-country skiing is your thing, there are four different trails systems right in the local area, including an extensive set of trails owned and operated by Michigan Tech. This is a world-class facility in every sense; Michigan Tech has played host to Olympic trials and just last month hosted the U.S. national cross-country championships. The conditions are usually great, the trails are well maintained, and the scenery is beautiful. My only complaint, as a "classic" or "glide" skier, is having to put up with those healthier-than-thou "skate" skiers as they go zipping past me in their garish spandex outfits!
There is plenty to do besides skiing of course. Snowshoeing is a favorite activity for many. For those who prefer their winter sports indoors, hockey is very popular and in fact there are a number of ECE faculty members who play in a local recreational league. The ECE Department puts on a student-faculty hockey game every December. They even got me out on the ice my first year in the department (just once.) For those who like motorized sports, snowmobiling is big around here too. You might think there would be tension between the "natural" outdoors types and the snowmobilers, but in my observation the two camps have reached a sort of peaceful coexistence. The snowmobiles have their own set of trails which are quite extensive, covering hundreds of miles of old railroad beds across the U.P. (one would NEVER mix skiing and snowmobiling on the same trail system.) It can be a little noisy sometimes, but you get used to it quickly, and most people recognize the economic benefit to the region. People come from all over to ride our snowmobile trails, and the years we do the best are the ones when we have snow when others don't, like in Wisconsin, Illinois, and downstate Michigan. There is snowmobile parking on the Michigan Tech campus, and once you get past the novelty it seems perfectly ordinary.
So there you have it – Michigan Tech, in addition to all of its contributions in science, technology, engineering, and math, is a winter wonderland. This is a unique place to live, work, and play. Students and alumni reading this know exactly what I'm talking about. Everybody else, you are welcome to visit – we'd love to show it to you.
– Dan
Daniel R. Fuhrmann
Dave House Professor and Chair
Department of Electrical and Computer Engineering
Michigan Technological University