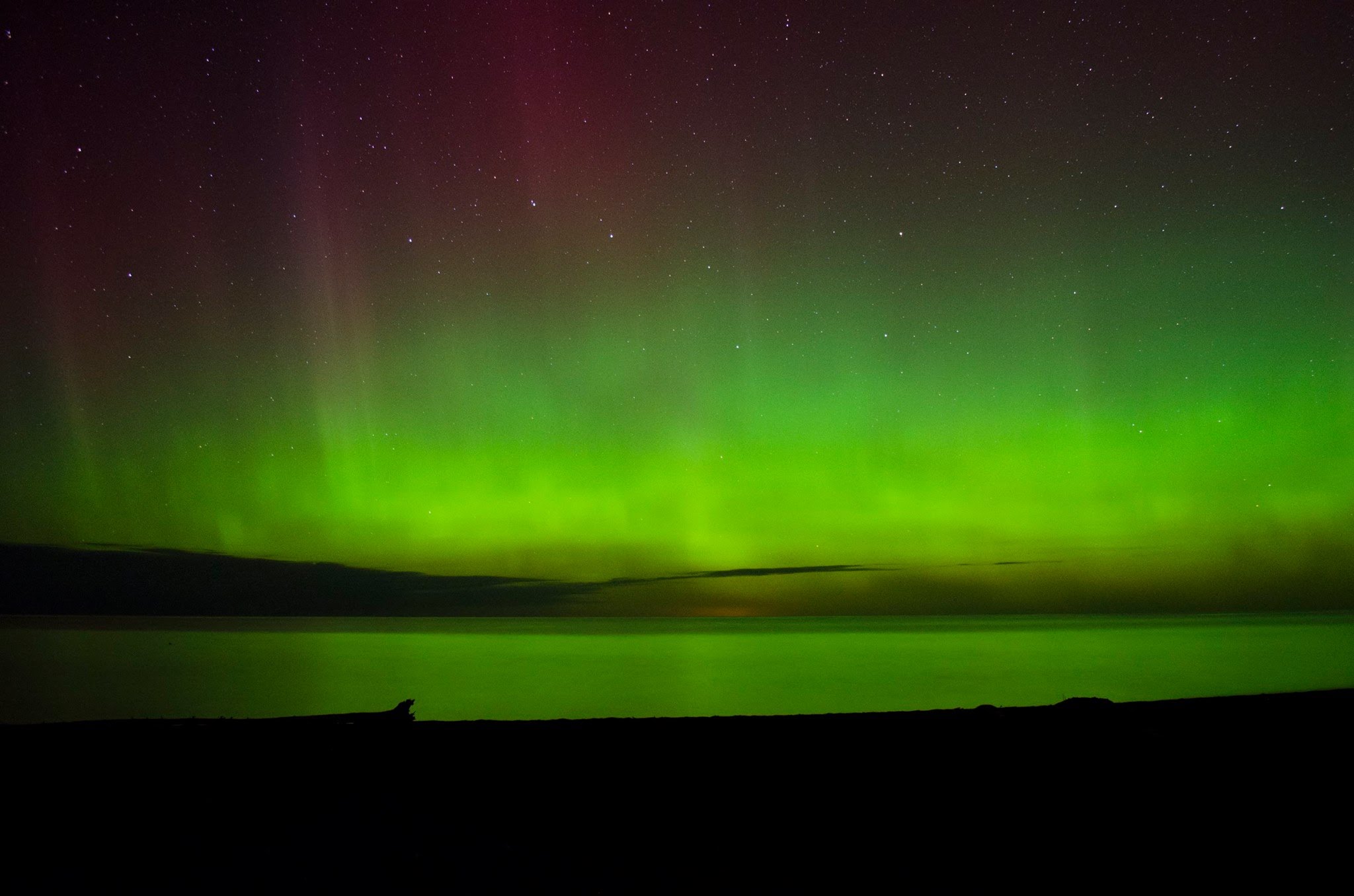 Last night I saw the northern lights for the first time. Having lived in the Upper Peninsula for over eight years now, one would think that I would have had many opportunities, but no such luck until now. My wife and I got the news that there was a high probability of activity, so we drove up to Eagle River to have dinner at a nice restaurant on the shore of Lake Superior, facing northwest. After dinner, when it was dark, we went out to have a look and there they were big as life. It was a clear night, with a nearly full and very bright moon that unfortunately washed the contrast out quite a bit. Still, it was a thrill to see something I had always heard about but had never witnessed first-hand.
There is not much point to that story, other than it reminds me (yet again) of the things that are unusual and special about Michigan Tech and this part of the country.
Right now we are at the halfway point in the Fall 2016 semester – the end of Week 7. It seems that things have quieted down a bit, although a lot of people are excited about the home opener for the hockey team tonight at the MacInnes Ice Arena. For me, the first half of the fall semester is always very hectic, with advisory boards and the Career Fair and most recently all the performance evaluations leading up to mid-year raise recommendations for the faculty and staff. This week, I have had a chance to slow down and enjoy the change of seasons.
Fall is always a beautiful time of year in the Keweenaw. Because of all the warm weather we have had in September, fall is very late this year, I would say maybe as much as two weeks. There is a lot of color in the trees but they have not peaked yet; we need a good freeze to really get the colors to pop, and that hasn't happened yet. The weather is great but the colors may be a bit on the bland side this year.
There's an old joke around here that there are two seasons in the U.P. – "winter's here" and "winter's coming." Once the leaves are off the trees in a couple of weeks, it really will be "winter's coming," a sort of nondescript time when things are gray but the snow hasn't showed up yet. I find it a good time to take stock, clear off the to-do list (to the extent that is possible), and to start making preparations for the inevitable snow. Some people say we could get as much as 300 inches this year. I don't doubt that that is possible, but I'll believe it when I see it.
The reader can tell that, even though I am in the office, my mind is not in the office. That is one disadvantage of having a big picture window with a view of the fall colors! Next week I will close the blinds and get back to writing about electrical and computer engineering.
Have a great weekend everyone!
– Dan
Daniel R. Fuhrmann
Dave House Professor and Chair
Department of Electrical and Computer Engineering
Michigan Technological University