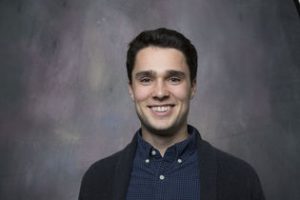 Three Michigan Tech students are among 169 students from 49 higher education institutions worldwide to be named University Innovation Fellows. They are: Rachel Kolb (MEEM), Kyle Ludwig (ECE), and Adam Weber (CNSA).
The University Innovation Fellows program empowers students to become agents of change at their schools. Fellows work to ensure that their peers gain the knowledge, skills and attitudes required to compete in the economy of the future and make a positive impact on the world. To accomplish this, the Fellows advocate for lasting institutional change and create opportunities for students to engage with innovation, entrepreneurship, design thinking and creativity at their schools.
Fellows design innovation spaces, start entrepreneurship organizations, host experiential learning events and work with faculty to develop new courses.
The program is run by Stanford University's Hasso Plattner Institute of Design. With the addition of the new Fellows, the program has trained 776 students at 164 institutions since its creation.
Ludwig, a computer engineering major from Traverse City, Michigan is involved in Michigan Tech's Entrepreneurs Club, the Electrical and Computer Engineering Undergraduate Advisory Board, and the Pavlis Honor's College. Ludwig would like to use his education in computer engineering, along with his passion for health and fitness, to improve health using technology.
"We believe that students can be so much more than just the customers of their education. They can be leaders of change and they can co-design the higher education experience," said Humera Fasihuddin, co-director of the University Innovation Fellows program.
"This core belief has driven the program since its inception, and we've seen the results of this belief put to action at schools around the world. Fellows are collaborating with their peers, faculty and administrators to create more educational opportunities for students at their schools. They are making measurable gains, both in the number of resources and the students served by the innovation and entrepreneurship ecosystem."
Individual Fellows as well as institutional teams of Fellows are sponsored by faculty and administrators and selected through an application process twice annually.
Throughout the year, they take part in events and conferences and have opportunities to learn from one another, Stanford mentors and leaders in academia and industry.