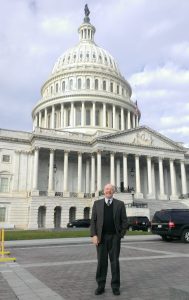 This week I had the opportunity to join Wayne Pennington, our Dean of the College of Engineering, and Brent Burns, the Director of Federal and Industry Relations, on a two-day trip to Washington, D.C. The purpose was to meet some of our congressional delegations and to host an alumni event for Huskies in the DC area. I do not have a lot of experience in government relations as it relates to my role as department chair, but I should probably be doing more of that and so the trip was valuable and educational for me.
I came away with a number of different impressions. First, the city of Washington itself seems alive and well. The iconic landmarks themselves – the Capitol building, the White House, the Washington Monument, the Lincoln Memorial, all the museums, and much more – are really quite beautiful, and it is hard to be down on the mall without feeling a strong sense of national pride. Despite all the bickering and acrimony we have seen this year, the work of government is really very important and I am glad that our Nation's capital stands as a beacon for the rest of the world, a stately setting for democracy in action. Beyond the mall the city seems to be thriving economically and culturally, which is a positive change over the years that I have visited. It is an energizing place just to walk around.
The political mood of the people I met was not as polarized as I expected. I think everyone, no matter their political persuasion, agrees that there are going to be some changes with the incoming administration, but most have no idea what to expect. If there is one thing we can probably all agree on, it is that Donald Trump is unpredictable. So, there is a lot of curiosity not necessarily anxiety. It's more like they are waiting for the show to start and expecting to be entertained. Of course, everyone we were talking to is intelligent, well-educated, and ambitious, so they are likely to land on their feet no matter what happens. I suspect there is a lot more anxiety out on the margins of society.
I was struck by how youthful everyone was, except for the senators and representatives themselves. Let's face it, Washington in a young person's town. They find positions in the various administrations as staffers and aides, work like crazy 24/7 until they burn out, and then move on. I guess that's not a bad thing. As I said above, the work of government is important, and there is value in having smart, energetic young people doing all the day-to-day work you never hear about. It did make me feel old though.
We wrapped up Wednesday evening by attending an all-Michigan holiday party in a beautifully decorated space in one of the congressional office buildings. It was attended by senators, representatives, lots of the aforementioned young staffers, Michigan businesses with offices in D.C., and university representatives including us. There was plenty of opportunity for networking, and an abundance of wonderful food and drink. On the dessert table they had, among many other goodies, some cute little Michigan cookies – see adjacent photo.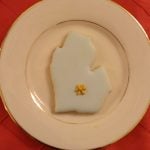 Question: what's wrong with this picture?
– Dan
Daniel R. Fuhrmann, Dave House Professor and Chair
Department of Electrical and Computer Engineering
Michigan Technological University