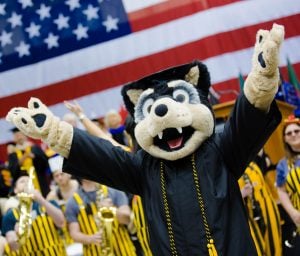 It's a great day to be a Husky!
Today is the last day of final exams for the Fall 2016 semester; tomorrow we will hold our fall commencement exercises in the Student Development Complex. At Michigan Tech we hold commencement twice a year, once in December and once at the end of the spring semester. It's convenient for the students graduating in December, about one third of the students graduating each year. Splitting into two ceremonies makes it possible for us to read the names of every graduate getting a diploma as they cross the stage, without being there all day. It's hard not to feel a little emotional during these rituals, as we see the culmination of a lot of hard work on the part of the students and the faculty. It's a big moment for all the parents in attendance, to be sure, but as surrogate parents for these young men and women over the past 4-5 years it's a big moment for us too.
I always enjoy talking to the graduates as we stand in line waiting to enter the gym. I typically ask the same two questions: what was your favorite course or instructor, and what are you doing after graduation? On the first question, I have come to anticipate the answer, knowing that we have a handful of instructors in the ECE Department that consistently go above and beyond in carrying out their teaching responsibilities. Every once in a while I am very pleasantly surprised to hear a name I have not heard before, to learn that someone is growing as a teacher and is reaching out to students in new and different ways. The second question is always fun, as I know that all of our ECE graduates who have been seeking jobs will have one. Michigan Tech performs very well in college rankings that emphasize "return on investment." That is a reflection of everything we do here, both in our rigorous academic programs and through all the support activity from Career Services and Student Affairs. One of the stories creating some buzz around the department this year is that one of our BS graduates received and accepted a job offer with a six-figure salary – not in California, either, but right here in Michigan! I know it's not all about the money, but I do believe that the value of a Michigan Tech education, both to the students and to prospective employers, is something to be proud of.
All of this hoopla is taking place against a backdrop of a sudden change in the weather. Some readers may recall my writing (OK, whining) in recent columns about the late and warm fall we have had this year. Well, no more. With a shift in the weather patterns, we are getting cold arctic air blowing from the northwest across Lake Superior and churning up the lake effect snow machine, big time. According the Keweenaw Research Center out by the airport, the one measurement I trust, we have had 41 inches of snow in December as of noon Wednesday. Much of this past week we were under a blizzard warning, and in a lapse of good judgment I happened to be out on one of our local highways Tuesday morning in the worst white-out conditions I have experienced since moving to Houghton. (I made it home safe and sound, thank you very much.) The cross-country ski trails opened up quickly and are good to go. To my astonishment, I learned that Mont Ripley, Michigan Tech's own ski hill right here in town, opens today. Guess where I'm going to be Saturday right after commencement!
– Dan
Daniel R. Fuhrmann
Dave House Professor and Chair
Department of Electrical and Computer Engineering
Michigan Technological University