The Virginia Gazette quoted Leonard Bohmann, associate dean of Michigan Tech's College of Engineering, in a lengthy article on power companies' back-up plans for handling power outages on peninsulas caused by faults in the transmission system.
Dominion Virginia Power sets plan for emergency blackouts
Dominion Virginia Power has taken the unusual step of planning for an emergency blackout, with a plan to cut power to 150,000 customers on the Peninsula in the extremely rare event of faults at two components of its high-voltage network occurring at a time when demand for power is high.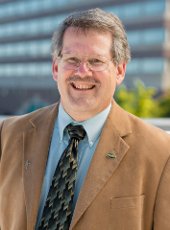 "In an ideal world, you wouldn't need an RAS because the system should be able to handle two faults. But it looks like their plan to deal with shutting the power plant has been taking longer than they expected," said Leonard Bohmann, a professor of electrical engineering at Michigan Technological University, who lives in one of the few other regions of the country where a similar plan is in place, Michigan's Upper Peninsula.