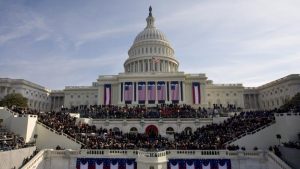 Well folks, here we are – January 20, 2017, the end of one remarkable era in American politics and beginning of a new one that promises to be even more remarkable.
Readers of this blog can probably figure out which way I lean, but I do not want to use this site as a forum to air my own political views. As a spokesman for the ECE Department at Michigan Tech, where one can find a diversity of opinions on social and political matters, it just wouldn't be appropriate. I will say this: I believe in our democratic system of government, and our capitalist system for organizing economic activity, and I also believe in the goodwill of most of the American people most of the time. There will be those in the next four years who will seek ways to take advantage of the shifting political landscape for their own personal gain and to the detriment of the American people, but I suppose this can be said of any era. As always, we need to be good citizens – the price of freedom is eternal vigilance, and that applies internally as well as externally.
What would be appropriate at this time is for me to consider what I can do, along with the ECE Department and all the rest of Michigan Tech, to be a positive contribution to our nation, our society, and the State of Michigan in the next few years. This election told us a lot about the electorate, including some things that may have caught a lot of people by surprise, and so now is a really good time to re-examine how an institution like Michigan Tech fits in.
One thing I think we can all agree on is that the nation is really divided right now (wouldn't it be ironic if we can't even agree on that…). I'm not even sure if "divided" is the right word; maybe "fractured" is more like it. Part of this is due to economic and social forces that I will mention later, but unfortunately it is also due to the way we use technology to communicate with one another. Our use of mass media, social media, and the Internet allows each of us to be very selective about where we get our news and whose opinion we listen to. If we choose to, we can all live in our own bubbles where our own views and preferences are reinforced, and opposing points of view are not heard. This is not altogether a result of our own actions either – any number of our major sources of information, like Google, Facebook, or Amazon, have become very good at tailoring the information we see to our individual preferences. Some of this is very cool – for example, I do appreciate learning from Amazon about a musical artist I might really like – but the flip side of that coin is never having to hear something that conflicts with my worldview. As many readers know, I am an evangelist for electrical and computer engineering and all the benefits we have brought to society in the past century, but putting everyone in their own bubble is not one of those benefits. Another closely related thing I worry about is this: now that the Internet has brought about widespread access to information, which is a good thing, it has also brought about widespread access to misinformation, which is a very bad thing. I am not sure if electrical and computer engineers are the ones to grapple with this problem, but clearly it is happening on the systems we created.
Aside from the technology story, I think a larger issue for us at a place like Michigan Tech to consider is how our U.S. educational system shapes and influences our society. I have been in higher education for virtually my entire career, and so I have to believe that what we are doing is good. I do believe that. The American system of higher education is the mechanism by which thousands of young adults find out who they are and how they will make their way in the world. Our system is the envy of the world – far more students come from abroad to study in U.S. colleges and universities than the other way around. We are a major economic driver: the research coming out of university laboratories leads to new innovations, new businesses, and new economic opportunities for a large swath of the population. I can attest that there is no better place to work than a good college or university.
But…there is another side to this story. Yes, our universities are great, but do they serve everyone in the nation? I am not suggesting that everyone should go to college. I opposed, and continue to oppose, the idea that was floated during the 2016 election campaign that college should be universally free of charge. Not everyone should aspire to go to college, and making it free would greatly distort that decision process. People who for good reasons choose not to go to college should have the same respect as everyone else and have a decent shot at the American Dream. That being said, there are still ways that our higher education system can benefit all of our society. If those that have the intelligence, the talent, and the ambition to attend college can do so, and then use their expanded knowledge and skills to benefit all through creating businesses, designing products and systems, getting engaged in civic affairs, and generally being a part of the community that is the United States, then great. Unfortunately I often see something else happening: smart people come to college, they meet other smart people, they graduate and hang out with more smart people, they get married and have smart kids, and eventually they segregate themselves completely from the communities they came from. When that happens, our system of higher education is not living up to its promise. We hear a lot about segregation along ethnic lines, along class lines, and along wealth lines, but I believe that over the past century there has also been a segregation along the lines of intellectual ability, and I would suggest that this as much anything has led us to the divided America that we see today.
In one short blog entry I have touched on two pretty major topics that are relevant today: how technology influences society, and the rise of the cognitive elite. I hope you will forgive me for bringing them up and then saying so little. Entire books could be written about both topics – plenty of people have done just that – and I will continue exploring these ideas with you in future columns. In the meantime, I will close by saying that I am grateful to live in a country where the peaceful transfer of power that I just witnessed a few moments ago can happen, and that we have the opportunity to pursue our dreams regardless of the party in power. What happens in Washington has an impact on our lives, but it does not determine our lives. Reminding ourselves of that may be one of the best things we can do today, for people anywhere along the political spectrum.
– Dan
Daniel R. Fuhrmann
Dave House Professor and Chair
Department of Electrical and Computer Engineering
Michigan Technological University