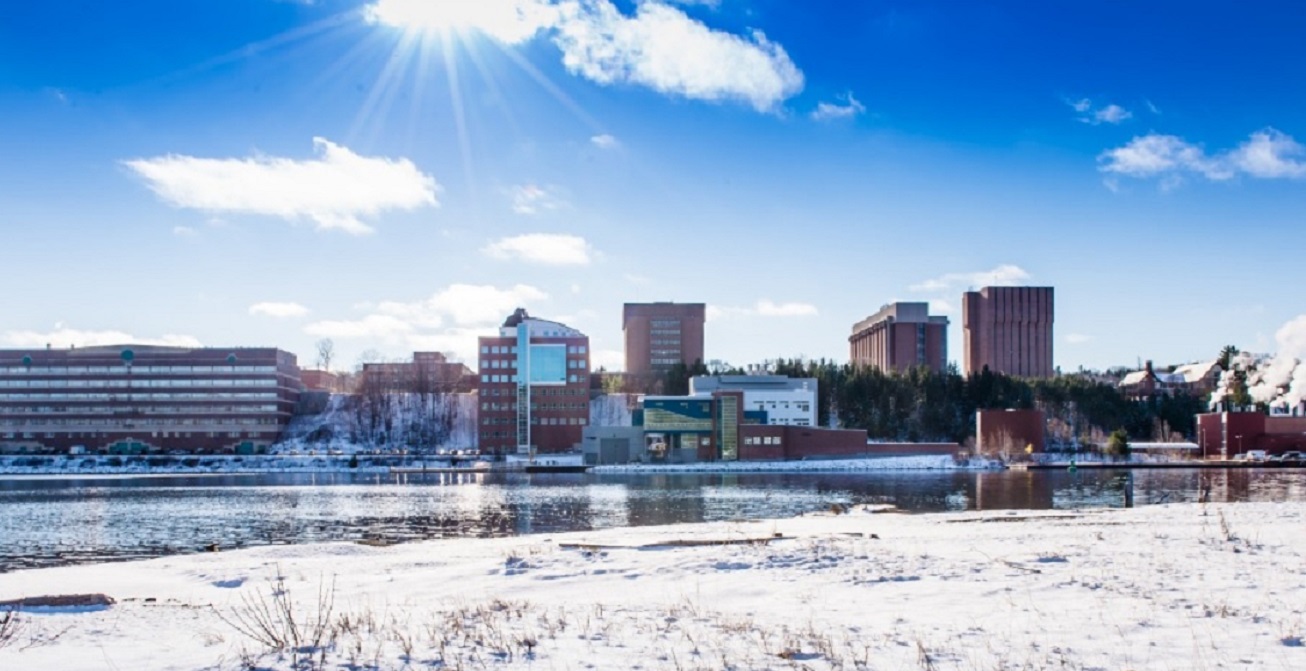 Today is the Friday of Week 8 in the spring academic calendar, and last regular class day before spring break at Michigan Tech. Things are pretty quiet around campus, as many students and faculty members head out for a variety of activities elsewhere. At least, I assume that is the case: I am not on campus to observe, as I am on the road myself for a trip that is a little bit work and mostly vacation.
This day is a special one for me. It was on the Friday before spring break in 2008, nine years ago, that I first set foot on the Michigan Tech campus. Then-dean Tim Schulz picked me up at the airport late Thursday night, after his weekly hockey game, and dropped me off at the hotel; on Friday I spent the day on campus learning all about the ECE Department, and gave a technical seminar on my work on adaptive sensing. It didn't take long for me to realize that this was where I wanted to be. Tim figured out how to push all my buttons. In addition to everything we did on campus, he arranged social events with people who would eventually become good friends, showing what a strong sense of community we have in our little town. He took me cross-country skiing on the Tech Trails, and we even went out to McLain State Park and walked around on Lake Superior ice! It must have been a colder winter than what we are having this year. Tim was a master recruiter and I have tried my best to follow his example in our faculty searches over the past nine years.
The halfway point in the semester (which was actually last week, not this one) means the conclusion of the course I teach, EE 1110 Essential Mathematics for Electrical Engineering. I sometimes struggle with balancing the competing responsibilities of teaching, research, and department administration, but on the teaching side I have found a good compromise by teaching this 1-credit course in a half-semester format. I stay in town in January and February, which is perfectly fine with me, and the second half of the semester is available for travel and other larger administrative tasks. This semester we had 144 students enrolled in EE1110, which makes it the largest course I have ever taught. With such a large class, I don't get much of a chance to get to know many of the students personally, but I do enjoy taking a group of students with a diverse set of talents and abilities and doing what I can to get them ready for our regular EE curriculum. You'll have to ask them if I was successful or not.
I am a big believer in the notion that, as a public institution, Michigan Tech has a responsibility to provide something of value to all our students, who come from all walks of life and all different levels of preparation and training. We don't have the luxury of being ultra-selective, but I couldn't be prouder of the job we are doing to prepare students for careers in engineering, whether they are class valedictorian or come from the middle of the pack in their high schools. I have designed EE1110 with this in mind. Students have three chances at the final exam. Some breeze through it on the first try, others study a bit more and are successful the second time. Some students need all three chances, and I don't have a problem with that – I'm in favor of whatever they need to do to demonstrate mastery of the material before moving on.
With EE1110 behind me for this semester, I plan on spending time in March and April crafting our strategic goals and our strategic plan for achieving those goals. We do this on a three-year cycle, and this time I would like to have our plan in place before the start of the next academic year. The entire faculty will need to agree on the plan, so there will be a fair amount of discussion and wordsmithing before the final document is approved. I am optimistic this can be accomplished before the faculty go in all different directions in May. The biggest challenge will be doing this at the same time we are preparing for our ABET visit, which is coming up next fall. Never a dull moment!
The little bit of work alluded to in the first paragraph happens toward the end of next week, when I will be in California. The vacation part starts today. Happy spring break everyone!
– Dan
Daniel R. Fuhrmann
Dave House Professor and Chair
Department of Electrical and Computer Engineering
Michigan Technological University