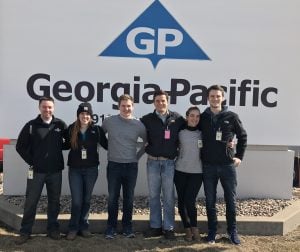 Members of Blue Marble Security Enterprise went right to the source this week to gain knowledge of their project sponsor's operations and products.
Georgia-Pacific engineers, and Michigan Tech alumni, Mitch Edbauer (ECE) and John Cretens (MEEM) hosted the site visit and provided a tour of GP's Green Bay-Broadway Paper Mill. The students were impressed by the company's process automation, where they saw entire sections of the plant controlled by a single person. They were equally impressed by Georgia-Pacific's environmental commitment including the use of 100% recycled fiber in their product production.
This year the BMS team has been researching ways to replace disposable batteries in automated soap and paper towel dispensers. The project includes finding alternative energy and methods to more efficiently disperse the products.
Blue Marble Security is a virtual company of undergraduate students focused on securing the future through thoughtful use of technology. The Enterprise is advised by Dr. Glen Archer.